Save The Last Dance
You've had the best day of your life and you still have one last song to request from your wedding band or DJ to end the night in style.
You want the final wedding song to encourage your guests to party until the end of the night – nobody wants an empty dance floor and everyone loves a good singalong. Do you fancy partying hard right up until the last minute or do you want a more reflective love song? Either way, you'll want all your guests together on the dance floor.
Looking To Hire A Wedding Band?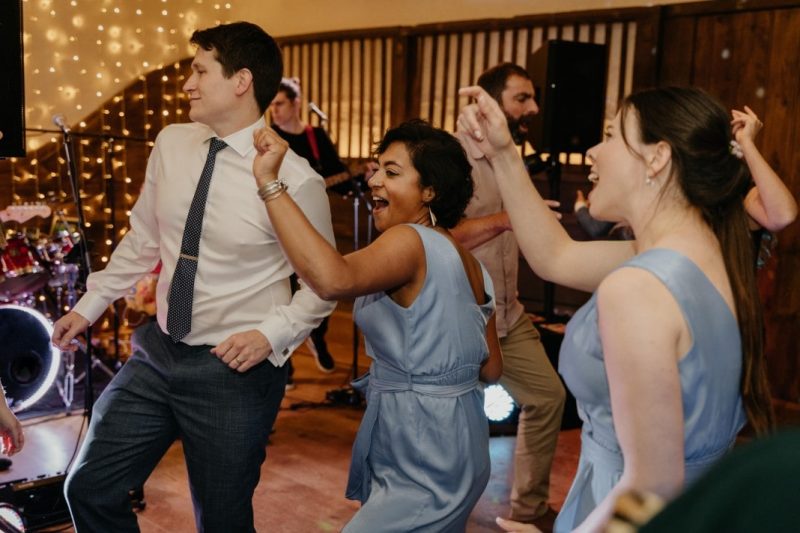 There are countless last dance songs, so what do you choose for the ultimate wedding encore? Allow us to provide some expert assistance with the selection of belting wedding songs to end your night with that never fail for our acts. Read on to discover last dance songs that will leave your guests elated at the end of the night.
Featured photo courtesy of Too Damn Hot!
1. Come on Eileen – Dexy's Midnight Runners
This song is a great choice because it is loved by old and young alike. The words don't really make any sense yet everyone loves to sing them at the top of their voice, and the song has that tantalising build up to the faster tempo at the end. A true crowd pleaser.
2. All You Need is Love – The Beatles
A classic that everyone knows the words to. Imagine your guests swaying arm in arm to this uplifting song about love's power to sustain us. What more can you ask for from the final song of your wedding?
3. (I've had) The Time of My Life – Bill Medley and Jennifer Warnes
Anyone who has ever seen Dirty Dancing will understand the love story behind this song. Anyone who hasn't still knows every word. You could always stage the iconic lift if you want! Just make sure the video goes viral for the right reasons…
4. One Love – Bob Marley
Who doesn't love this song? The lyrics literally say 'Let's get together and feel alright'. A great wind-down song to transition from dance floor frenetics to the end of the night.
5. Don't Stop Believing – Journey
This song is guaranteed to have everyone up and dancing. It is an iconic power ballad with a beat that means you are obliged to boogie, lyrics you can belt out and solos to encourage air guitarists, making it the ideal song to end the night with.
6. Hey Jude – The Beatles
Starting as a simple piano ballad and ending as a rousing rock song, this timeless classic is a firm favourite. Please make sure to na na na naaaa responsibly.
7. What A Wonderful World – Louis Armstrong
By the end of the night, you will be feeling wonderful and what better way to end it than with the sultry tones of this beautiful song by Louis Armstrong? If you want to bring your wedding reception to a definite end, sometimes its a good idea to make your last dance a slow one, a what better choice than this beautiful song with it's message of pure positivity and love? This is also a great choice as a first dance song.
8. Don't Stop Me Now – Queen
The chances are your guests won't want to stop dancing because they will be 'having a good time'. Why not give them this upbeat classic that they are sure to enjoy?
9. Livin' on a Prayer – Bon Jovi
Your guests will love singing this song to each other. It is an anthem that will have them partying right until the very end. Air guitars at the ready!
10. New York New York – Frank Sinatra
This song might not be about love, but it is triumphant and glorious and everyone knows and loves it. A perfect song to end a perfect day.
11. Don't Look Back in Anger – Oasis
Who doesn't love a bit of Oasis? Guaranteed to create a rousing chorus among your guests, Don't Look Back in Anger is a 90s classic, sure to please everyone if you choose it as your wedding last dance song.
12. Angels – Robbie Williams
Love him or hate him, Robbie Williams wrote a corker of a tune with this one. Everyone will be belting this out, that's for sure.
13. I Will Always Love You – Whitney Houston
Although this song is about a break up, the sentiment of this song is clear. Your friends and family will love giving their best performance of this romantic power ballad.
14. Never Forget – Take That
Gary Barlow has an incredible skill for writing crowd-pleasing songs and this one is no exception. Vibrant and joyous at the end, this song is ideal for creating a final experience that your guests will 'never forget'.
15. Everybody Needs Somebody – The Blues Brothers
This song has a fast pace that will get your guests throwing some wild shapes on the dance floor. You've found your somebody to love so why not play this song to make sure the night ends with a bang?
16. Let's Get it On – Marvin Gaye
After a few shandies and feeling the love at your wedding, your guests might be feeling flirtatious and loved up. Who knows? Your last dance could be the first for someone else!
17. Superstition – Stevie Wonder
Instantly recognisable, this Motown classic is a firm favourite at weddings. Its funky beat is irresistible and will inevitably result in some outrageous end of night moves.
18. Just the Two of Us – Bill Withers
This is why you're getting married right? So the two of you can make it through life, no matter what it throws at you. This song is laid back and sweet, and would make a lovely end to the evening.
19. A Thousand Years – Christina Perri
A song that works well as both a first and last dance song, this ballad combines elegant string orchestration with dreamy, romantic lyrics. It is ideal if you want to create a calm and reflective end to your wedding.
20. Can't Help Falling in Love – Elvis Presley
This might be the perfect love song. Treasured by every generation, this sentimental song will make your guests remember just why you and your partner are meant for each other when they see you in each other's arms at the end of the night.
21. Ho Hey – Lumineers
A staple in the repertoires of wedding folk bands, this wedding encore song suits a rustic wedding with its folky vibe. The Lumineers' enduring hit has the ideal mix of a good beat to dance to and lyrics simple enough for even the tipsiest of guests to join in with.
22. We Are Family – Sister Sledge
Disco giant Sister Sledge provide an upbeat and positive feel that can be used to highlight the coming together of two families. Watch as your guests unite and show off their best moves!
23. Shut Up and Dance – Walk the Moon
If you want to get your guests to dance right up to the curfew, then what better way than making the final song of the night one that literally instructs them to do it? This pop-rock song is vibrant and great to sing along to.
24. Sweet Caroline – Neil Diamond
This song has a catchy tune and everyone knows it, from youngsters to the grandparents – and if they don't? It's easy to pick up! Neil Diamond's classic is sure to have everyone up and on the dance floor for one last hurrah!
25. History – One Direction
This song is sweet and emotional and has a wonderful sentiment. It has a sway-worthy melody that your guests will be singing and clapping along to in no time.
26. I Don't Want To Miss A Thing – Aerosmith
As last dance songs go, this one is pretty epic. There's something about it that just screams last dance from the first chord, and will give your guests a last chance at either a slow-dance or to gather arm in arm and belt out the lyrics.
27. You Shook Me All Night Long – AC-DC
This high-energy song is probably one of the best rock songs ever written and will undoubtedly bring your wedding reception to an epic conclusion!
28. All Night Long – Lionel Ritchie
You can't go wrong with this one. Loved by all, the ever-popular Lionel Ritchie will bring your night to the perfect ending with this timeless song.
29. Save The Last Dance For Me – Michael Bublé