Meaningful declarations of love, soulful expression of emotion, the smoothest of grooves – R&B wedding songs make the perfect first dance or accompaniment for your walk down the aisle. And when it comes to hitting the dance floor? Your guests won't be able to resist getting down to artists like Aretha Franklin, Luther Vandross or more modern singers such as Alicia Keys or Bruno Mars.
So whether you're hunting for the ultimate love song or some upbeat and infectious tracks to keep your dance floor full all night, then this list of the best R&B wedding songs is a great place to start.
Looking To Hire A Wedding Band?
R&B Ceremony And First Dance Songs
These romantic R&B wedding songs will give you all the feels so are perfect for a first dance or ceremony song!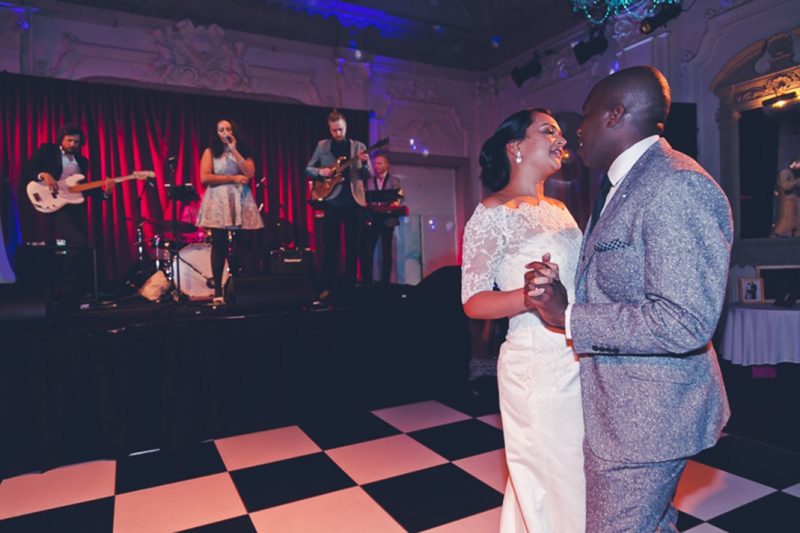 1 + 1 – Beyoncé
All My Life – K-Ci & JoJo
Angel – Shaggy ft. Rayvon
Angel Of Mine – Monica
At Your Best (You Are Love) – Aaliyah
Best I Ever Had – Drake
Best Part – Daniel Caesar ft. H.E.R.
Beyond – Leon Bridges
Can't Take My Eyes Off You – Ms. Lauryn Hill
Cinderella Pt. 2 – Chika
Conversations in the Dark – John Legend
Dontchange – Musiq Soulchild
Endless Love – Lionel Ritchie and Diana Ross
End Of Time – Beyoncé
Fantasy – Mariah Carey
Find Someone Like You – Snoh Aalegra
I Swear – All-4-One
I'm Gonna Make You My Wife – The Whispers
I'm In Love – Aretha Franklin
If I Ain't Got You – Alicia Keys
I Have Nothing – Whitney Houston
Incomplete – Sisqo
Like I'm Gonna Lose You – Meghan Trainer ft. John Legend
More Than You'll Ever Know – Boyz II Men feat. Charlie Wilson
Nobody – Brian McKnight
One In A Million – Will Downing
Send It On – D'Angelo
Sent From Heaven – Rahsaan Patterson
Share My Life – Kem
Slow Jam – Usher, Monica
Spend My Life With You – Tamia & Eric Benet
Stay With You – John Legend
That's When I Knew – Alicia Keys
The First Time – Surface
The Point Of It All – Anthony Hamilton
Thinkin Bout You – Frank Ocean
Until The End of Time – Justin Timberlake, Beyonce
Vision of Love – Mariah Carey
We Belong Together – Mariah Carey
You And I – Stevie Wonder
You're All I Need to Get By – Aretha Franklin
R&B Wedding Party Songs
Create a buzz on your dance floor with some of these R&B wedding songs that are perfect for your reception. There are fun upbeat tracks and huge belt-them-out melodies that your guests will love for sure!
The Girl Is Mine – 99 Souls ft. Destiny's Child & Brandy
Girl On Fire – Alicia Keys
No One – Alicia Keys
I Need A Dollar – Aloe Blacc
1 Thing – Amerie
Respect – Aretha Franklin
Problem – Ariana Grande ft. Iggy Azalea
Halo – Beyoncé
Love On Top – Beyoncé
Run The World – Beyoncé
Single Ladies (Put A Ring On It) – Beyoncé
Crazy In Love – Beyoncé ft. Jay-Z
Drunk In Love – Beyoncé ft. Jay-Z
Beautiful Liar – Beyoncé, Shakira
The Boy Is Mine – Brandy & Monica
Finesse – Bruno Mars ft. Cardi B
Lady Marmalade – Christina Aguilera, Kil' Kim, P!nk
Princess Of China – Coldplay ft. Rihanna
I Wanna Sex You Up – Color Me Bad
7 Days – Craig David
Ghetto Romance – Damage
Independent Women – Destiny's Child
Jumpin' Jumpin' – Destiny's Child
Say My Name – Destiny's Child
Survivor – Destiny's Child
Love The Way You Lie – Eminem Ft. Rihanna
Don't Let Go – En Vogue
American Boy – Estelle ft. Kanye West
Love Like This – Faith Evans
Work From Home – Fifth Harmony
Worth It – Fifth Harmony ft. Kid Ink
Crazy – Gnarls Barkley
Fancy – Iggy Azalea ft. Charli XCX
Down – Jay Sean ft. Lil Wayne
Empire State of Mind – Jaz-Z ft. Alicia Keys
Giving Myself – Jennifer Hudson
Jenny From The Block – Jennifer Lopez
Price Tag – Jessie J ft. B.o.B
Bang Bang – Jessie J, Ariana Grande, Nicki Minaj
No Air – Jordin Sparks ft. Chris Brown
Talk – Khalid ft. Disclosure
Never Too Much – Luther Vandross
Dy-Na-Mi-Tee – Ms. Dynamite
Closer – Ne-Yo
Dilemma – Nelly ft. Kelly Rowland
All Or Nothing – O-Town
Hey Ya – OutKast
Beep – Pussycat Dolls
When I Grow Up – Pussycat Dolls
Don't Cha – Pussycat Dolls ft. Busta Rhymes
Ignition (Remix) – R. Kelly
Disturbia – Rihanna
Don't Stop The Music – Rihanna
Only Girl (In The World) – Rihanna
Rude Boy – Rihanna
Shut Up and Drive – Rihanna
Stay – Rihanna
Umbrella – Rihanna
Beautiful Girls – Sean Kingston
You Might Need Somebody – Shola Ama
Sir Duke – Stevie Wonder
Break Your Heart – Taio Cruz
Dynamite – Taio Cruz
The Way I Are – Timbaland ft. Keri Hilson
Never Gonna Let You Go – Tina Moore
Written In The Stars – Tinie Tempah
No Scrubs – TLC
Waterfalls – TLC
Yeah! – Usher ft. Ludacris & Lil Jon
Heartbreaker – will.i.am ft. Cheryl Cole
I Wanna Dance With Somebody – Whitney Houston
Can I Hire A Band To Play These Songs?
Definitely! If you've been inspired and you're interested in hiring a band for your big day, why not check out the incredible selection of Soul and Motown bands, show bands, disco and funk bands and more below!
More Wedding Music Inspiration