We understand that booking a live wedding band, party band or corporate entertainment for the first time is a bit of a daunting task.
At Entertainment Nation, we've got years of experience in organising and planning live entertainment, and we want to share our expertise with you to make this process as easy and stress-free as possible. We're happy to answer any of your questions, no matter how big or small, if it means that you are satisfied with your choice of live entertainment. We would rather you ask hundreds of questions and be comfortable to book your chosen band than be left with any lingering doubts.
Our advisers work all week long to make sure you have all the information you need to make the right decision. You can contact us by email, phone or live chat to ask any burning questions for an existing booking, or begin a new enquiry.
We have put together a few hints and tips for anyone interested in booking an act for an event! Be it a Wedding, Party or Corporate event, our bands offer the lot! Here are some pointers worth noting down!
BOOK EARLY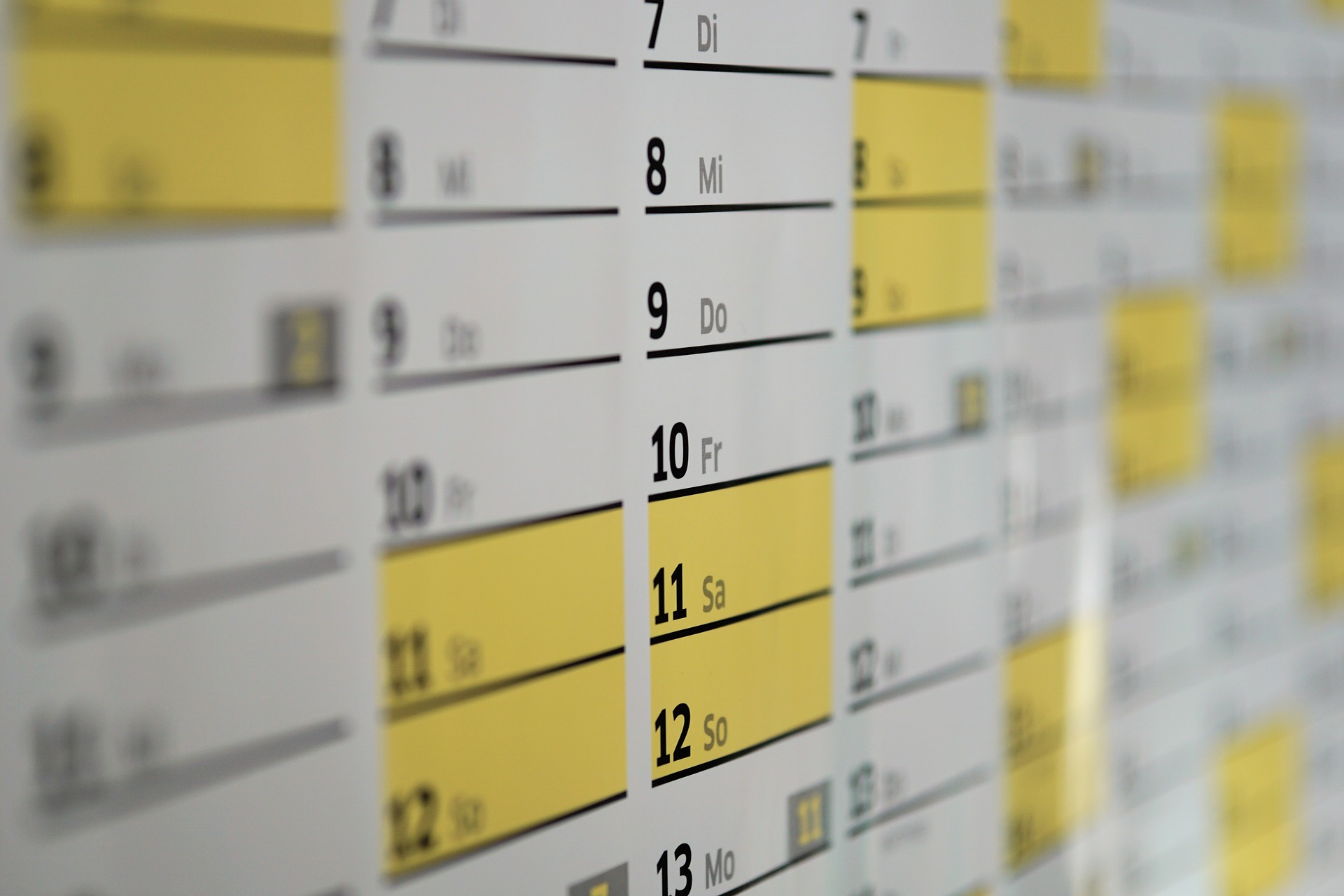 The unanswerable question: "How far in advance should I book my entertainment?". There's no right or wrong answer, however we would answer it the same every time. As soon as possible! If you leave it until the last minute, you risk being disappointed with the limited choice of bands available – it's amazing how quickly bands get booked up, sometimes years in advance.
We advise searching for a band/act as early as possible and if you find an act you love, snap them up there and then! We don't like having to tell you that a band are unavailable for your specified date, so if you choose a band, get a quote and are happy they are the perfect band for you… BOOK THEM NOW!
NARROW DOWN YOUR SEARCH
When beginning your initial search on the Entertainment Nation website, try and narrow down your search. First select your event type: wedding, party or corporate event. Now you can select the county your event is taking place in. This will present all the bands and acts that are most suited to your event and location. It will also display an approximate price for the band. Alternatively, your search can be based on the genre or type of act, if you already have a vision of the type of act you want.
Our acts are categorised into bands, soloists and duos, classical performers, tribute/themed and specialty acts and DJs and DJ Live Acts. You can also filter bands by the genre they play, from pop and rock bands to swing and jazz bands! The more research you do beforehand, the quicker our advisers can put together a list of potential acts to hire.
WATCH PROMO VIDEOS AND LISTEN TO SAMPLE SONGS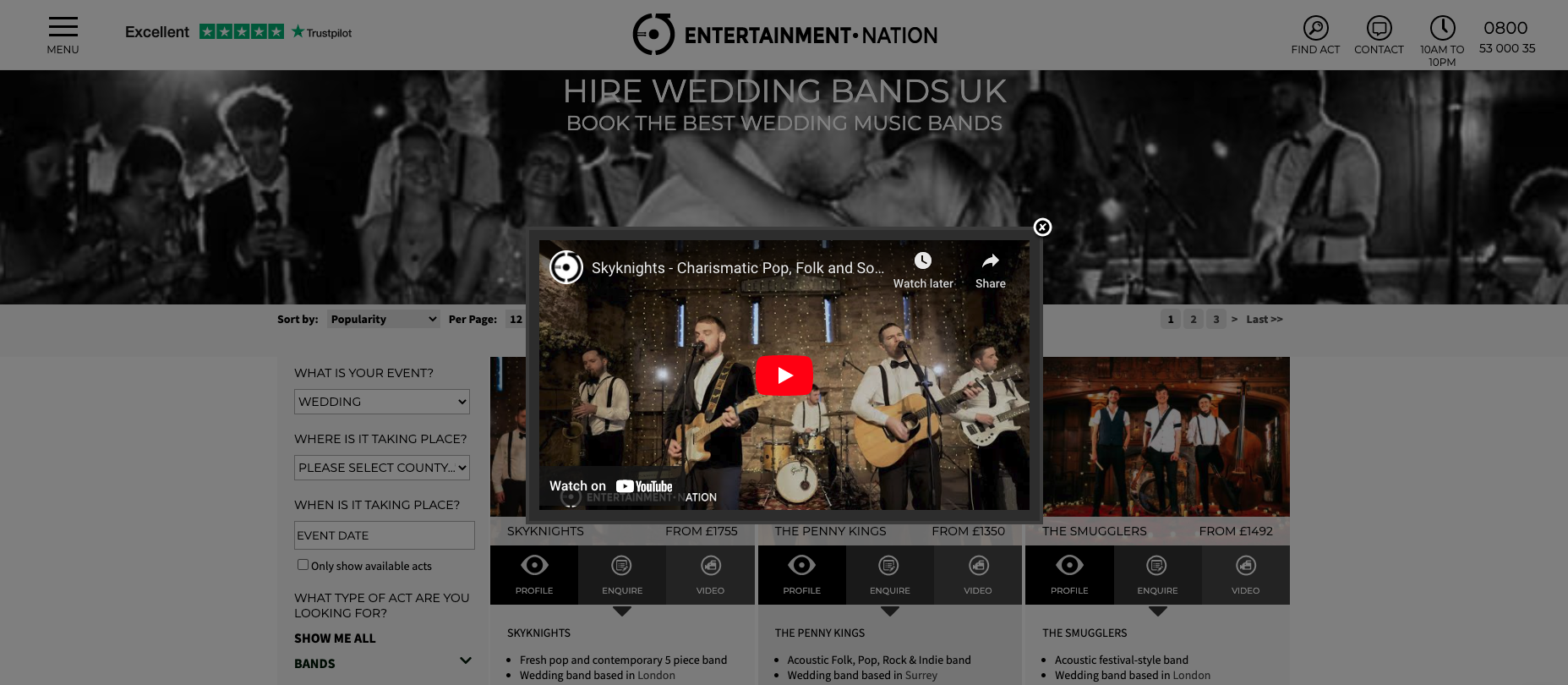 First things first, if a band piques your interest, watch their promotional videos and/or listen to their sample songs. If they're the band for you, you will know almost instantly. Videos are a really useful source for both the band and for the client. A band's promo video displays an accurate representation of how the band look, and how they will perform. If bands don't have a video, they will have a selection of sample songs. Using these two tools, you can make an immediate decision on whether the band is suitable for your event and if they have the right sound and image. Many bands have the option to book an acoustic duo version of the band (perfect for wedding ceremonies or champagne receptions) or to add extra band members for an even bigger live sound. These additions will obviously change the cost of hiring the band.
READ THE BAND'S PROFILE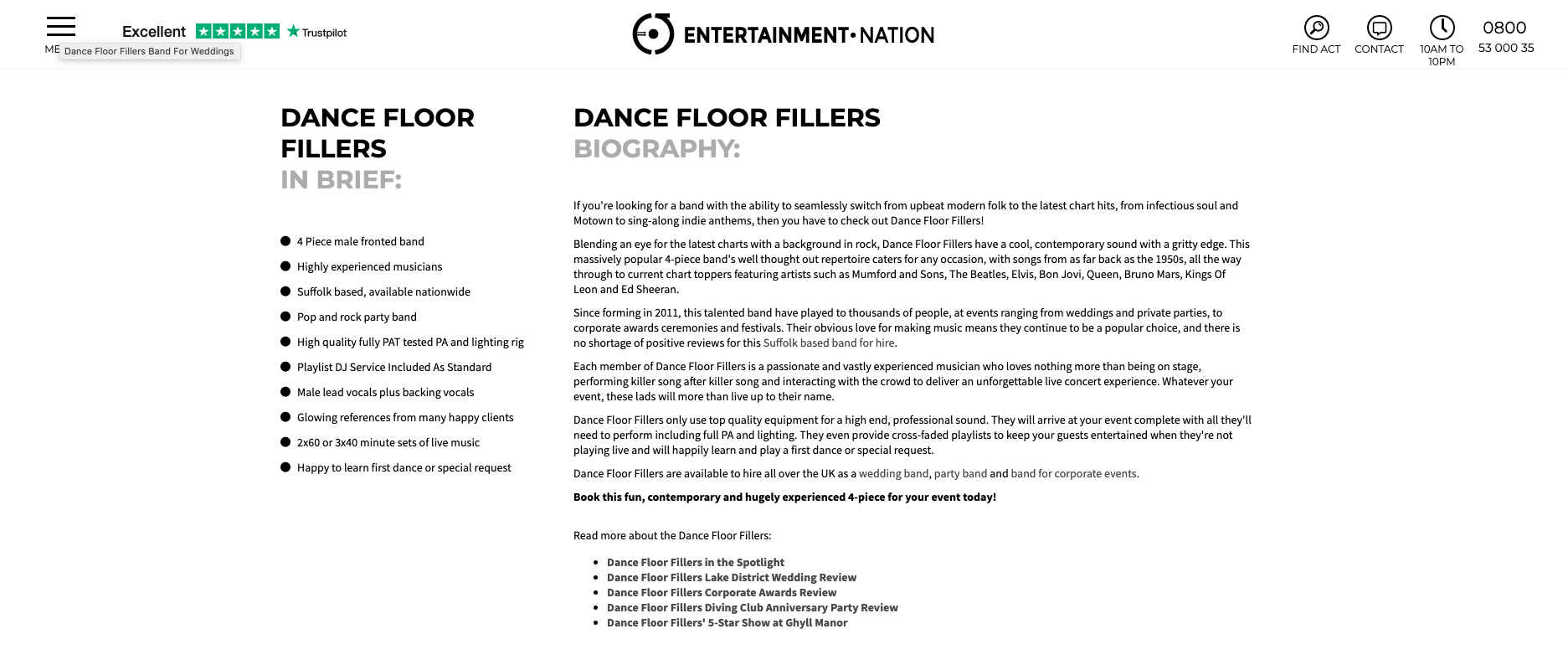 When investigating acts, always read all the information available. The band's profile can give you an insight into what they offer and their previous experience. It briefly highlights what genres of music the band performs, the instruments they play and the sound and lighting equipment provided by the band. Beneath this is their full repertoire – usually split between separate genres and playlists that they play at gigs. This is the best way to confirm whether you like the band, and if you're interested in booking them.
REQUESTING SONGS

A lot of bands will offer to learn a special request, such as a first dance or last song of the night. Often, this will be included in the band's fee, but double-check on the band's profile, or ask our advisers if it is unclear.
When you hire a band, they will usually contact you around 4 weeks prior to the event and discuss their set lists. Usually they ask which songs you dislike and which songs you would love to be played at the event (from their repertoire). This will give the band an idea of your preferred genres and musical styles. Now, using the your guidance, the band will create a full set list for the event made up of songs from their repertoire. It isn't common to choose the band's exact set list for the evening; however, you can always request extra songs (usually with a fee).
Our bands are talented, professional musicians and know how to read the audience, and know when to slow things down or pick things up. You don't need to worry about what they play, your chosen band will have played countless live shows and know which songs work to create an electric atmosphere at your event!
DJ SERVICE OPTIONS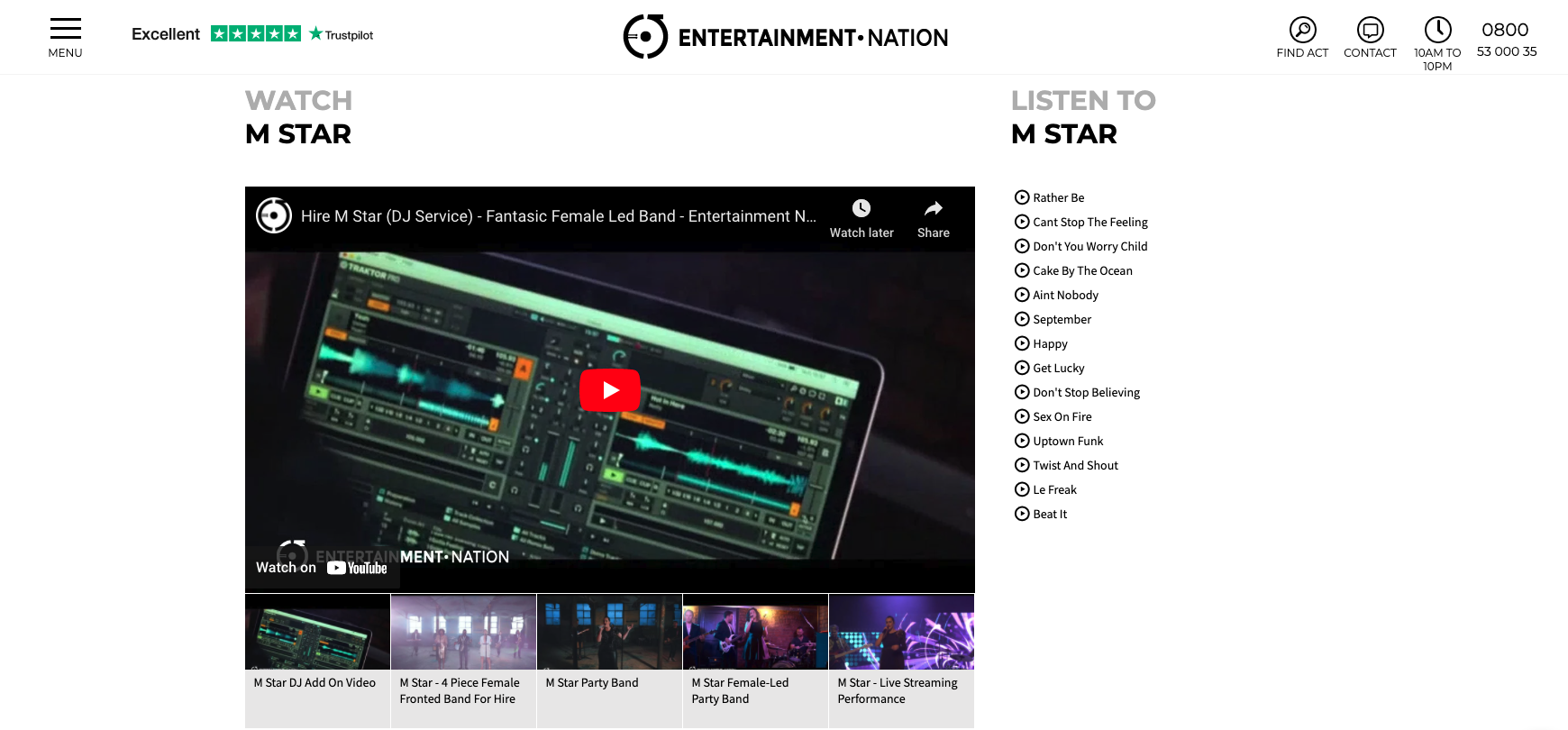 Most of our bands provide a DJ service that they play between their sets. They can supply either a DJ playlist that is pre-set or a manned DJ service where they can take requests. Only some bands will offer a manned service without a fee. This is something to investigate because between the band's sets you don't want the mood to drop. You want the party to continue! Having this service means you don't have to book another band or separate DJ to fill in the gaps – saving you a bit of money in the process. This way the dance floor will always be full in between sets and will definitely be packed during the band's sets!
Check out our previous blog "What Does DJ Services Mean?" for more in-depth info on DJ services offered. We've also got a bit of advice for you if you're torn between hiring a band or a DJ.
COMMUNICATIONS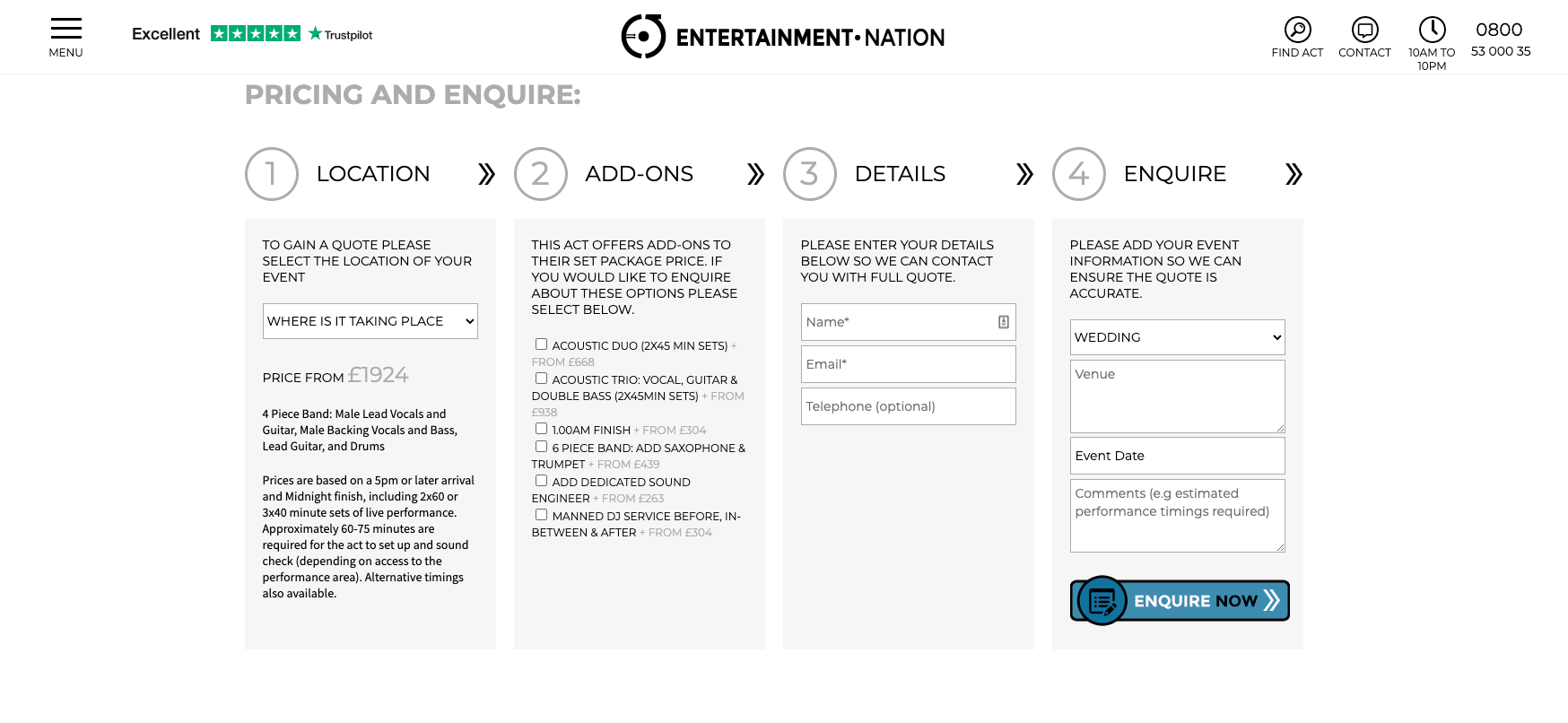 This is key to booking a band! Communication is the main element of our whole booking process. We are here from the very beginning, up until the day of the event. When you first browse our website, you can pop up to us on live chat to discuss ideas before making a formal enquiry. We will help you eliminate unsuitable bands and acts and find the perfect addition to your event. After an enquiry has been submitted we can issue a quote and, with all being well, write up a contract and get the deposit sorted, swiftly and securely. We are then around to answer any questions and help wherever possible, at any time. Four weeks before the booked event, the band will personally contact you to confirm times, locations and any further arrangements. We want to make sure all clients are aware that there is no such thing as a silly question and we are happy to help with any queries.
WORKING WITH YOUR VENUE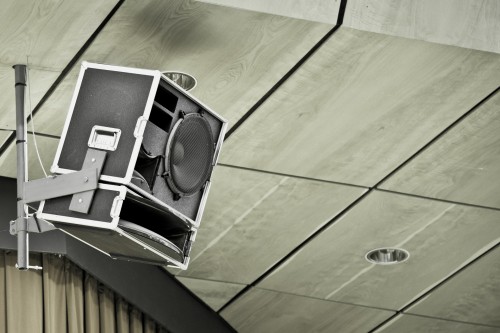 Usually the venue is the first item on the event planning to-do list. If you already know that you want a band to play at your event, then ask the following questions before booking:
1. Do you allow live music at your venue?
Whilst it is uncommon, some venues may not have a license to have live musicians play at their venue. Venues must have this so they are insured for bands to play. This is a crucial piece of information to have. In the unusual case of them not having a license, you would have to choose between having a live band and your chosen venue.
2. Do you have a sound limiter and, if so, what is your sound limiter set to?
Some venues restrict the volume at which live music can be performed. To monitor volume levels, venues use sound limiters, which in some cases cut the band's power if a specified decibel limit is exceeded. As you can imagine, nothing stops a party in its tracks more efficiently than sudden silence! If you have envisaged a rock band to play at your event, you will be really disappointed if they can't play to their full potential due to a sound limiter. Make sure you check with your venue whether they use a sound limiter and relay the information to us when enquiring about a band. Many bands are able to use alternative equipment to get around volume restrictions, as long as they have plenty of notice. Another solution is to book an acoustic band, who can perform at venues with live music restrictions without compromising the quality of their performance.
3. How big is the performance area?
When the band arrives at the venue, there should be a defined space for them to set up and perform. There should be plenty of accessible plug sockets for them to set up their equipment as well as privacy to do sound checks without an audience. Certain bands, depending on their style of performance, will require a minimum measured space. This can be checked against the room available at the venue and you can address any issues with the band or venue. Alternatively, if the band simply don't have enough room to perform, you may need to choose a different band.
We hope that we've answered some of your questions and settled some worries about booking a live band!