So you're excited to plan your wedding entertainment but don't know where to start? You're probably wondering…
Is It Cheaper To Book A DJ or a Wedding Band?
In most cases, a DJ will be the cheaper option. However, if you're looking to take your wedding or event to the next level, nothing can compare to the energy and concert-style experience a live band will create. If you're looking to recreate a club night in Ibiza or want to be able to make requests from an endless supply of songs, then a DJ will be more up your street. This handy guide will help you decide which type of act is right for you.
Why Should I Hire A Wedding Band?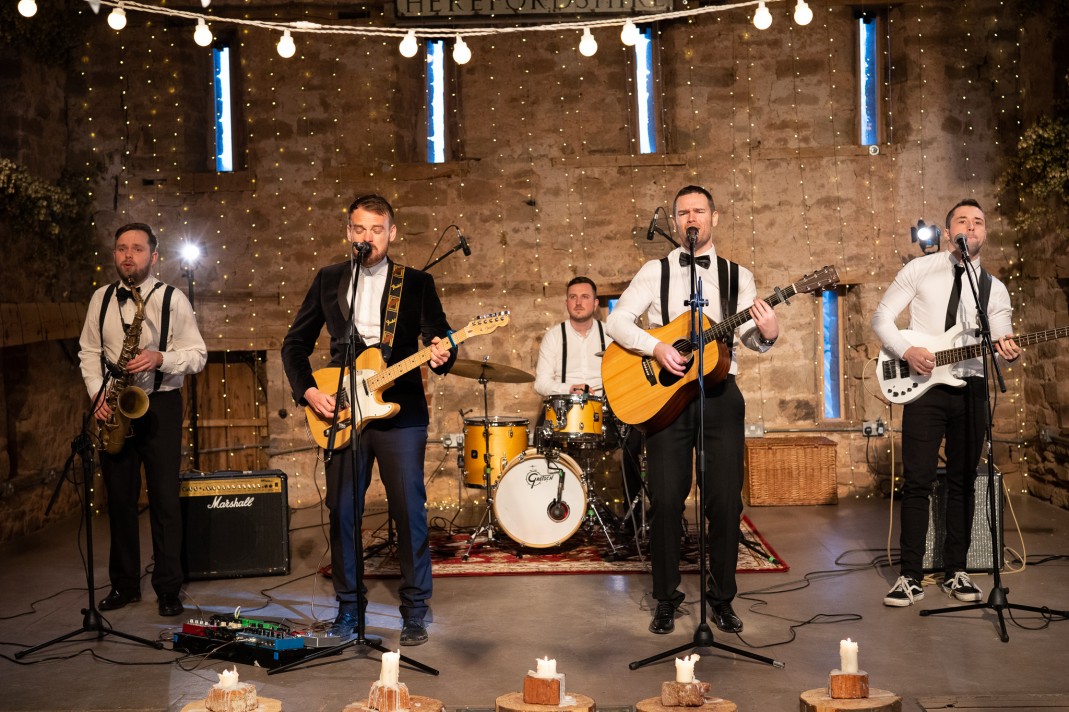 For the Unrivalled Atmosphere
Wedding bands create an amazing atmosphere that simply cannot be replicated by a recording. With a live band as the centrepiece for your reception, your guests can experience exhilarating solos, let loose to breathtaking vocals and dance the night away with professional musicians doing what they do best. Nothing compares to the real thing! Bands will bring professional-grade sound systems and lighting with them that will create a treat for the eyes as well as the ears. Wedding performers are full of energy, interact personally with the crowd and are experts at ensuring the dance floor is always flooded with happy guests.
To Complement Your Theme
There are so many different genres of band available to complement the theme of your wedding. Whether you want a festival-themed indie extravaganza or a fantastic folk band that looks and sounds perfect at a rustic barn, a live band can enhance the vibe and theme of your wedding and take it from decent to dazzling.
Whether you're looking for sultry jazz, modern chart hits or acoustic folk, the beauty of hiring a live band is that they can give a fresh new feel to your favourite songs. Want dance hits performed with a funky baseline? No problem! Are you a massive fan of Oasis and want your reception to be a celebration of all things Britpop? Go for it. Your guests will love hearing songs performed with a unique twist.
To Personalise The Performance
A first dance performed by a live band can feel beautifully intimate and unique. What better way to reflect your personality as a couple than to have your favourite song played in a style of your choice? Most bands will learn your first dance song as part of their standard package if it is not already in their repertoire.
Things to Consider
Bands are adaptable: Wedding bands come in all shapes, styles, sizes and genres. Depending on the size of the band you choose and how far they have to travel, the price can vary greatly. Don't be put off if a band seems out of your price range though! Most bands will be able to provide an alternative smaller line-up or shorter set for a more budget-friendly option, even if this isn't advertised. Some solo and duo acts use loop pedals or backing tracks to give you that full sound at a fraction of the cost.

Speak to your venue: The space available at your venue might restrict the size of the band that you choose. Ensure that there is enough space available and ask the venue if there are any restrictions on noise and about any logistical issues that might occur before booking your band.

DJ service included: Bands normally perform two sets over an evening for a total of around two hours. Between sets, most bands offer a playlist DJ service where they'll play music through their PA – some even offer a manned service with a band member on hand to take requests. This will nearly always work out cheaper than hiring a band and a DJ separately, but if you want the full DJ experience…read on!
Why Should I Hire a Wedding DJ?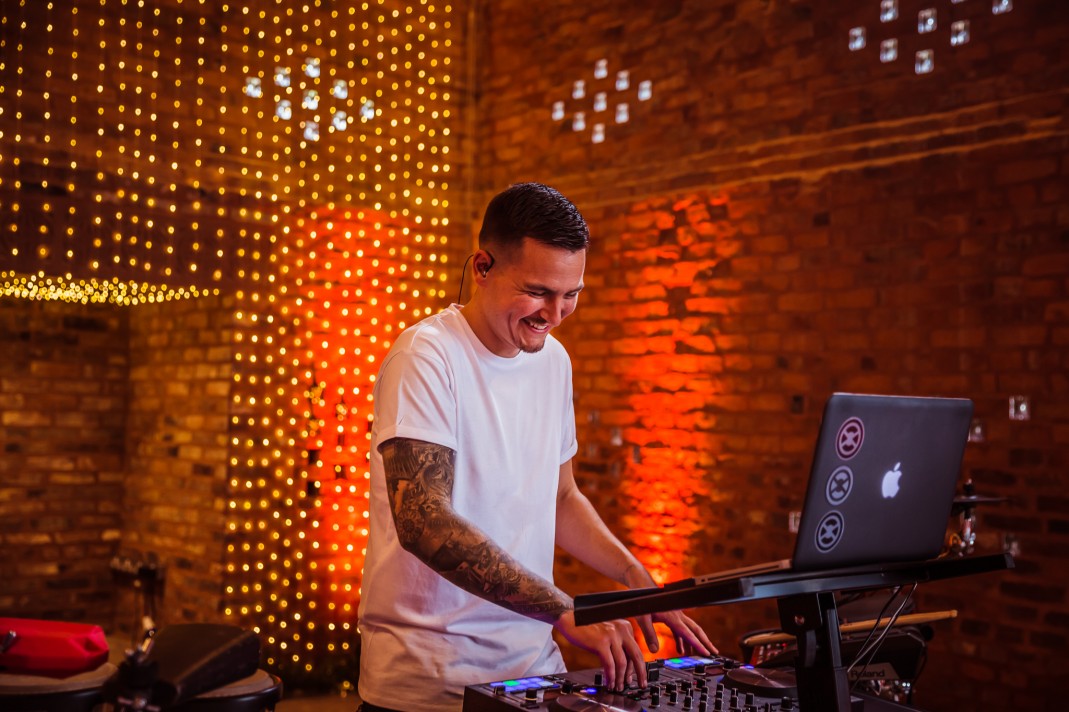 For Unlimited Song Choice
Wedding DJs have access to pretty much every song available and are therefore able to switch seamlessly between dance anthems, 90s pop and Motown classics at the drop of a hat. Most DJs are more than happy for you to provide a selection of your favourite songs and will take requests too (if you can trust your guests!) They are able to read the room and switch up the music to fill the dance floor instantly, playing crowd-pleasing favourites that will get everyone's toes tapping, regardless of age. Most DJs will happily work with you to create a setlist if you are worried about songs being played that are not to your taste.
To Keep The Noise Down
Many venues may have restrictions on noise past certain times, so if you want your guests to be able to party on into the night, a DJ will be ideal as they can play at quieter volumes and still provide that party vibe.
For Smaller Venues and Budgets
DJs are a great choice if your venue has limited space for performers. Alternatively, why not consider a solo or duo act if you are short on space? If you are looking for more tips for small weddings, check out our small wedding blog. DJs have a surprisingly small set-up so will fit into even the tightest of spaces, leaving more room for your guests to boogie on down. It also goes without saying that a DJ will cost less than a live band, so this may be something to consider too!
What If I Can't Decide Between a Band and a DJ?
If you still can't decide, then there is good news! Consider the DJ packages that live bands offer so your guests can listen to epic tunes and stay in the party mood between sets. If you really want the best of both worlds, check out our DJ and live musician acts. Fancy a DJ coupled with live dirty sax solos or jaw-dropping percussionists? This option can provide you and your guests with an astonishingly unique experience that they will never forget!
Still Got Any Questions?
Whatever you decide, choosing the right act to perform at your wedding is going to make sure your guests are enjoying themselves all night long and will remember the event for years to come. At Entertainment Nation we have an incredible selection of acts to suit every budget and style. Our friendly team are on hand to help you choose the perfect act for your big day!