Welcome to In The Spotlight, where we get to know a little bit more about one of our astounding acts!
In this edition we are joined by The Lightmen, a trio of exceptional young musicians who perform your favourite party hits. Their folk-inspired renditions of floor-filling favourites create a feel-good festival vibe at wedding receptions, private parties and corporate events across the UK.
The Lightmen's jam-packed repertoire caters for all ages, with songs from the 60s, 70s, 80s and 90s, featuring Chuck Berry, Bill Withers, Prince and Michael Jackson, and more modern songs from the 00s and 10s by George Ezra, Ed Sheeran and Maroon 5. You won't be able to keep off the dance floor when The Lightmen are on stage.
We had a chat with Daniel, Charlie and Henry about life in The Lightmen:
Who are The Lightmen?
"We're three lads who met each other at university. We all hit it off straight away as friends and as musicians, and have worked together ever since. We've been involved in a variety of projects, but The Lightmen is definitely the pinnacle of our achievements. Playing in this band lets us embrace our love of acoustic music, and being a trio of mates who know each other's styles inside out means The Lightmen is the tightest band we've ever played in."
Which song is your favourite to perform?
Daniel (Guitar and Vocals): "Never Too Much By Luther Vandross – Easy!! Just the most perfect Funk track."
Charlie (Bass): "For me it has to be Kiss by Prince. A great track to perfrom live, especially with our own little spin on it."
Henry (Drums): "History by One Direction… It's a bit of a guilty pleasure of mine!"
Out of the songs you've been asked to learn for a first dance, which is your favourite?
"Hmm that's a tough one as there have been awesome requests, but I would probably say when a couple asked us to perform 'With Me', a great track by Sum 41. It was a complete twist on what we get asked to do for a first dance and worked really well on the night."
One final song question, which is the song you can always rely on to fill the dance floor?
"It has to be Mr Brightside, it always gets any crowd going – mega floor filler."
Here's a little taster of The Lightmen's floor-filling cover of Mr Brightside:
Do you get on with each other all of the time?
"Definitely, we have all known each other since university and worked together a lot since. Over that time we've developed a great chemistry together. We love that we get to go to work with our mates."
Who has the most annoying habit (and what is it)?
"We are quite lucky as none of us have noticed any bad habits from the others… yet."
What's the best thing about being in a band?
"Getting to do what you love for a living is a great part of what we do especially knowing we have been able to make someone's special day or event even more memorable."
… and what's the worst?
"The worst part? It would probably be the load in after a very long journey home. The last thing you feel like doing at 3am is lugging heavy equipment around, but we all agree it's a small thing to deal with if it means we get to do what we do as a job."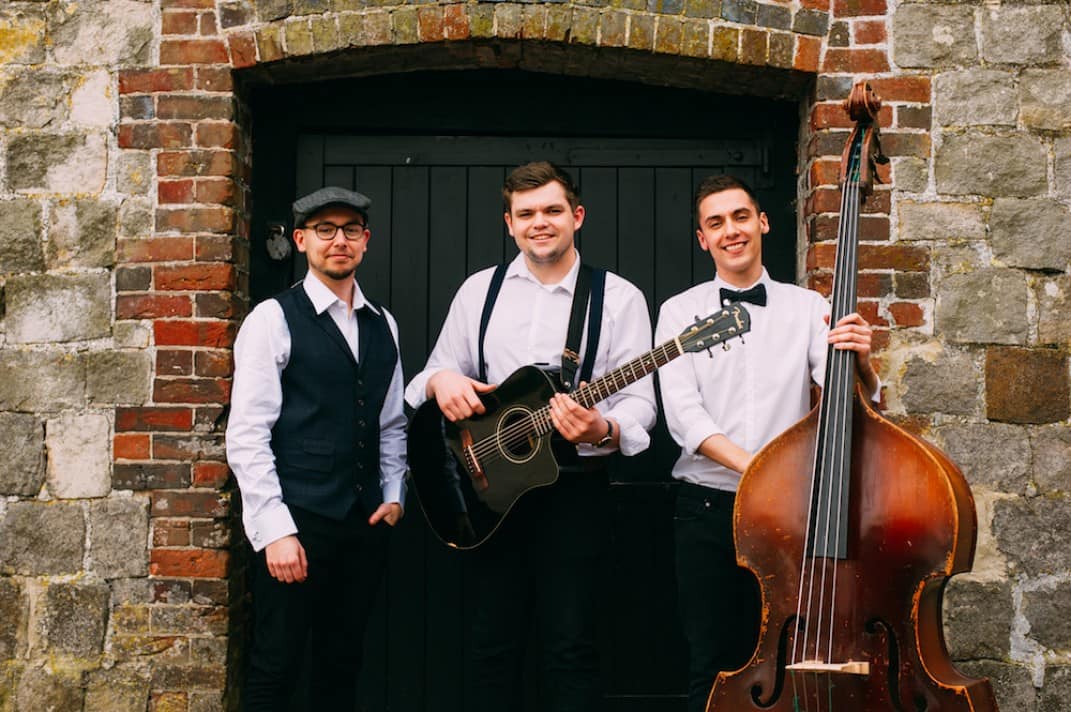 What's the weirdest thing that's happened to you at a wedding?
"Well it's not too strange but was a really cool moment. We were playing at a wedding and things were going amazingly, us and the crowd were bouncing off of each other having a great time, when all of a sudden, during the last song of the set the power went out. PA, lights, the lot had gone down. Suddenly the crowd just carried on where we left off and basically performed for us – complete role reversal!! That really made it a memorable event."
And finally…the most important question: Buffet or Hog Roast?
"We'd have to say Buffet – we've all indulged in one too many hog roasts over the years!"
Hire The Lightmen For Your Event!
And there you have it, you're now properly introduced to The Lightmen! To get this exciting band booked for your event, then please get in touch with us or enquire on their profile below.
For any other enquiries or to book amazing wedding bands for hire, exciting party bands or slick corporate entertainment, then contact us on 0800 53 000 35, info@entertainment-nation.co.uk or on LiveChat on our site.