It's that time again! We're getting to know one of our most sensational wedding entertainment acts to let you behind the curtain and get to know them before you book!
Weekend Ticket are… well, just fabulous! They provide a show-stopping set of crowd-pleasing anthems that hit allll the right spots. From modern pop to classic rock, soulful flairs and rock n roll riffs, Weekend Ticket's repertoire caters for all.
A friendly bunch with a fierce passion for what they do, it's no surprise they're in such high demand as a contemporary pop band! We'll let them tell you the rest…
Who are Weekend Ticket?
"We are Ryan, Joe, Jamie and Brett. The only 4 people you need to make your event one to remember!"
Give us a wow fact about you!
"We have been playing together for over 10 years! From a variety of different backgrounds, we all come together to play and enjoy music together."
What can a wedding couple/client expect when they book you?
"We bring bags of energy to get the party going – singalong and dance hits to make you move. We love to make the evening one to remember and want to include the audience as much as possible – if you're up for a good time with some amazing songs, vocals and guitar solos then you're in the right place."
Do you offer any optional extras?
"We offer the addition of saxophone and trumpet to add even more colour and excitement to your event. They really bring a huge sound to the performance and fit in perfectly with our set. We offer a manned DJ service and additional sound engineer if you're looking for a real show-stopping performance."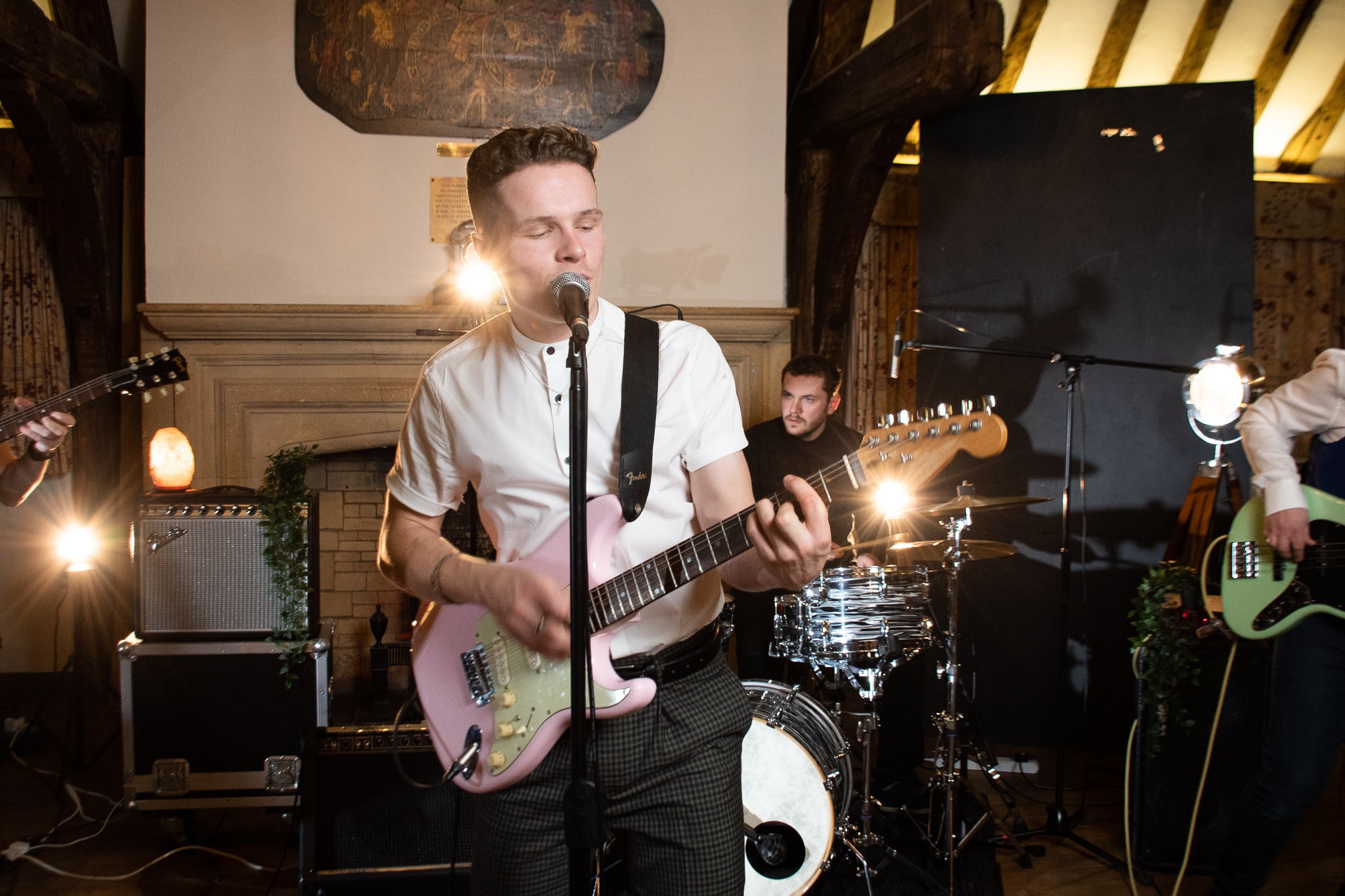 Which song is your favourite to perform?
"At the moment we really love playing "Yellow" by Coldplay. We've got it mastered and love getting the crowd to take over the vocals. A close second would be "Watermelon Sugar" by Harry Styles!"
Which is the song you can always rely on to fill the dance floor?
"We have had a few shows where the dance floor are exhausted and have gone to grab a drink as soon as we start the riff to "Twist N Shout" people are running back over to show their dance moves."
Top requested song?
"Mr Brightside! Without a doubt!"
Top choice for a first dance song?
"We love playing "Hero" by Enrique Inglesias. A romantic and timeless tune."
Favourite sing a long song?
"It's got to be "I'll Be There For You" (Friends Theme) – everytime!!!"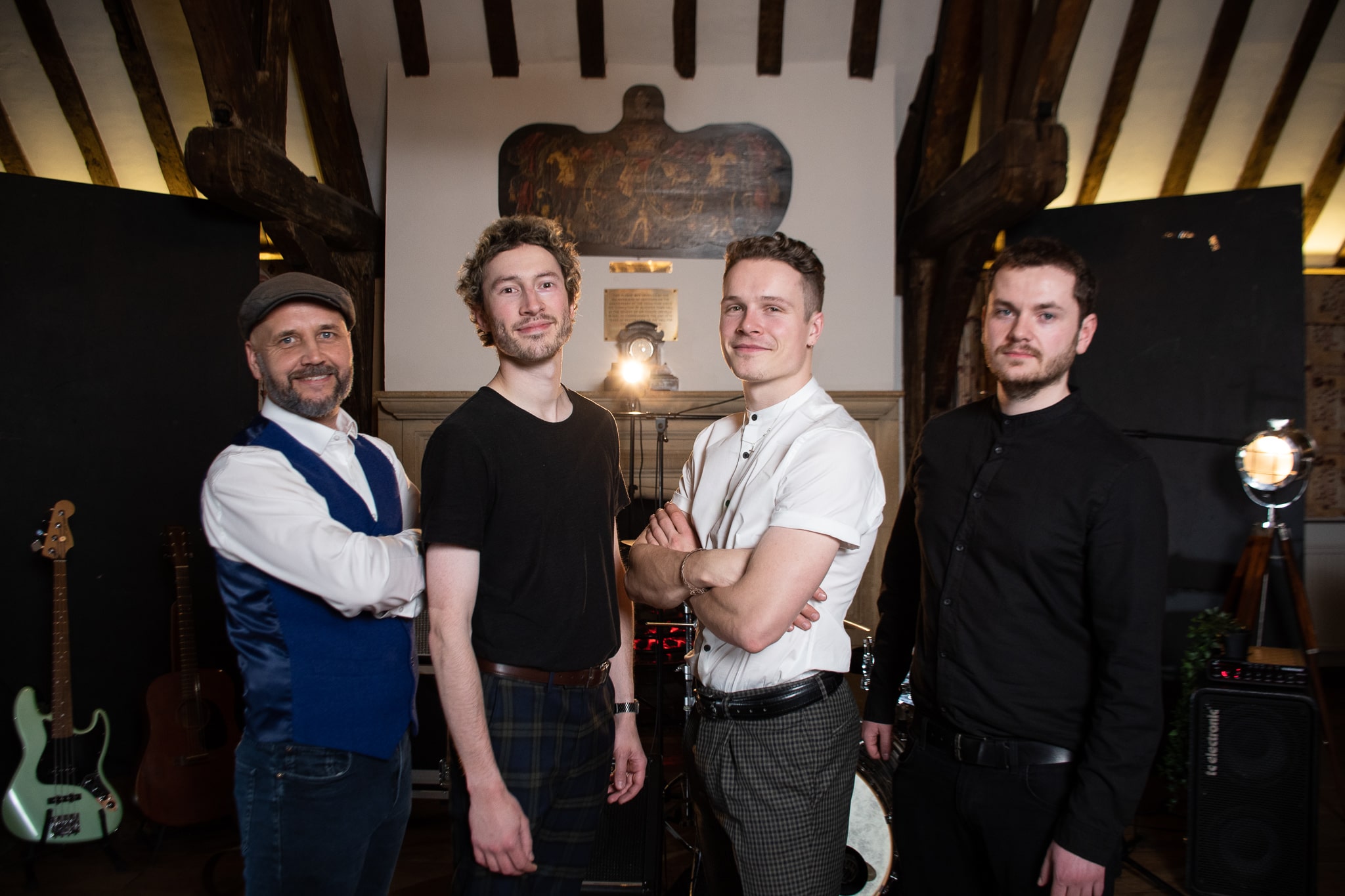 What inspired you to be musicians?
"Playing live music every day allows us to be constantly inspired. I love the fact that you can share so much fun, excitement, happiness in a set with others – that's what keeps it so fun and enjoyable. I (Ryan, the lead vocalist) was personally inspired by the fact of being able to make people happy and enjoy music."
Do you get along with each other all of the time?
"Cliché but we are all very good friends and know when to push each other's buttons and stop. We are very professional when it comes to working everything out so that saves any drama and at the end of the day, we love what we do! We might get a little cranky on a 4am drive home! But most of the time we are great."
Who has the most annoying habit and what is it?
"Joe (our lead guitarist) always wants food!"
What's the best thing about being musicians?
"Working together, making people happy and meeting new people and experiences. Music has opened so many doors for all of us."
… and what's the worst?
"We must admit that the driving is not the highlight of our careers…"
Most memorable moment of your career as musicians?
"Performing to 13 million people on national television was a big moment, playing a private function for Tiger Woods or touring Canada! It's been a rollercoaster of amazing memories."
If you weren't musicians, what would you be doing?
"I think we would still be connected somehow… maybe we'd run a coffee shop?"
Top tip for anyone booking wedding/party entertainment?
"Cake for the band!"
I think we'll have to put your cake request to the wedding industry board and we'll get back to you guys, haha!
It was a pleasure to hear from the guys of Weekend Ticket, and delve into their "behind the scenes" life of a party band! We loved chatting with you!
Wondering whether these fabulous guys are available for your big day, corporate event or private party? Wonder no more! Get in touch with our friendly team to secure a quote for your occasion. Or head over to their profile here and send through an enquiry with your event details.
You can reach us on 0800 53 000 35 or info@entertainment-nation.co.uk. We'd love to hear from you!
More entertainment goodness…
Still on the hunt for the right band for you? We're on hand to whittle down the perfect act for your celebrations. We have hundreds of top-quality performers and musicians who'd love to play a very special part in your big day.
Looking To Host The Best Wedding Reception Ever?
Thank you for reading! We hope you enjoyed getting to know Weekend Ticket! 🙂