Image Credit: Zoë Harris Photography
Your wedding is probably going to be the most important and exciting day of your life to date, but if you're not careful, it could also be one of the most wasteful. If making your wedding as sustainable as possible is important to you, read on to discover some top tips for an eco-friendly wedding!
Book A Venue Close To Your Guests
When it comes to travel and being eco-friendly, less really is more. If you're inviting wedding guests from all over the place, it's likely that some of them will be travelling a long way to celebrate with you. To minimise the impact this has on the environment it's best to choose a venue that is closest to as many people as possible. Not only is it better for the planet, but it'll be easier for your guests too!
Think About Your Dress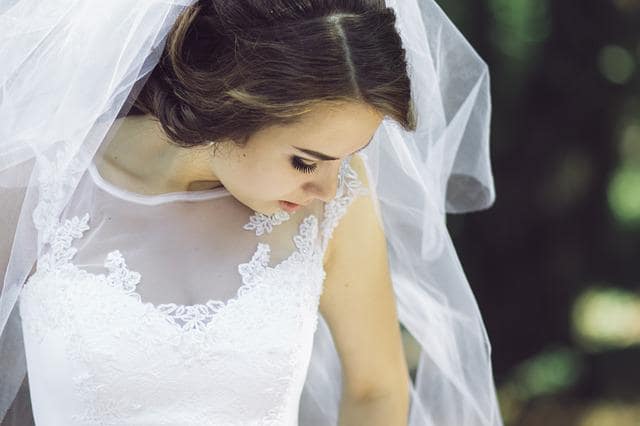 Buying a huge dress that you'll only wear once could perhaps be one of the most unsustainable purchases you'll ever make. Luckily there are some simple, eco-friendly ideas that will help you make more environmentally-friendly choices when it comes to your wedding gown.
Wear Vintage
You'd be surprised at what you can find in your local vintage or charity shop. Brides regularly donate their gowns and other beautiful outfits that make for stunning wedding attire for both men and women. Buying second hand is great for the environment and also your pocket. Win win!
Buy From A Sustainable Designer
Many designers now make conscious decisions to use sustainable materials for their gowns so it isn't difficult to find responsibly-sourced wedding dresses these days. If you're unsure, contact the designer to find out about their energy consumption, materials and supply chain to make sure that they align with your values.
Choose A Dress You'll Wear Again
It's such a shame that after the wedding day itself, wedding dresses are usually put into storage, never to be worn again. What a waste of materials and energy! It's far more ethical to choose an outfit that you'll love to wear time and time again after your wedding, and it will act as a lovely reminder of your special day every time you do!
Book Your Entertainment Through An Eco-Friendly Agency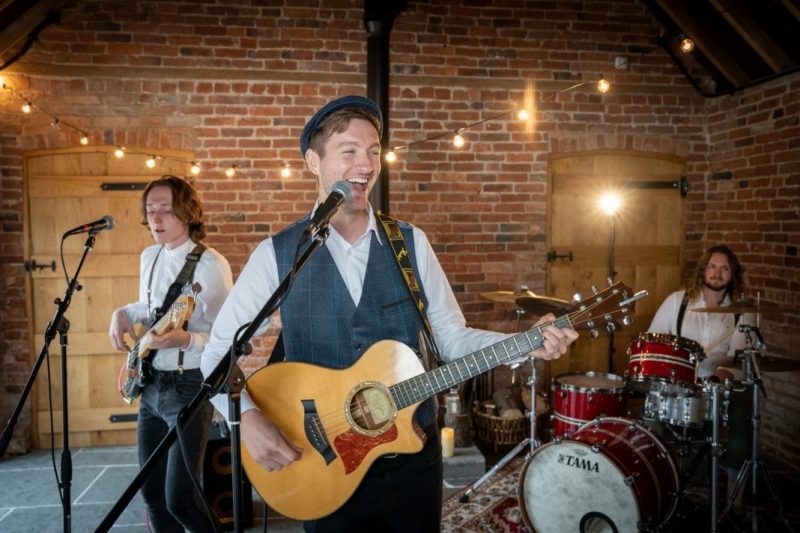 When booking your wedding entertainment, it's important to consider the environmental impact the musicians make while travelling to your venue. To reduce their carbon footprint (and your quote) try to book a band from as close to your venue as possible.
You should also consider whether the agency you choose to book with is doing anything to combat the impact the band's travelling has on the environment. At Entertainment Nation we've teamed up with Ecologi to reduce our environmental impact by donating a portion of every booking to projects that help plant trees and offset carbon around the world.
E-Stationery Is The Way Forward
If you want to go as green as you can, why not scrap the paper invitations altogether? E-invites work just as well and make it quick and easy for your guests to RSVP. You can record cute video messages which are far more personal than a paper invite! At the wedding itself, table names and places settings are easy to make using wood so no paper is needed at all. If you have your heart set on paper, be aware that lots of modern wedding stationery is made with high-quality paper which unfortunately hasn't been recycled. However, many companies now specialise in recycled stationery, which is far better for the environment and will look just as beautiful on your tables.
Go In-Season With Your Flowers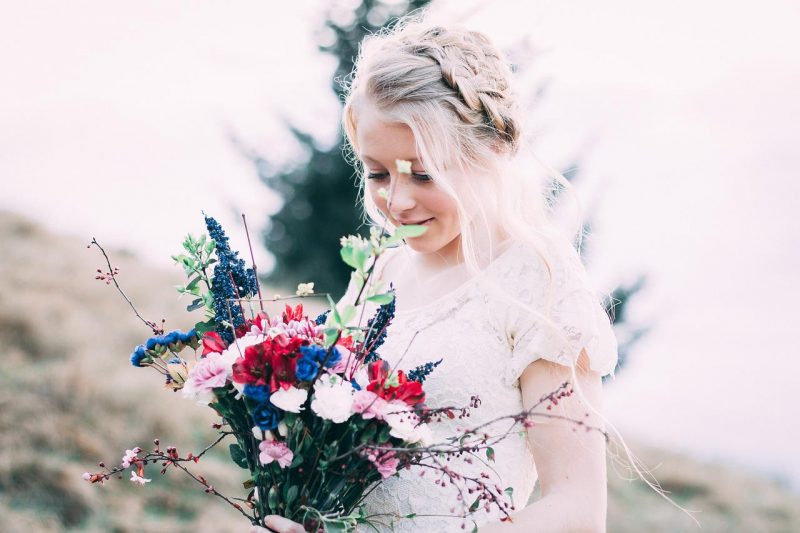 Your florist will thank you for choosing flowers that are in-season as they are easy to come by and most importantly don't have to be imported. Yay! Many out of season flowers will also have been grown using pesticides and plastics. When you visit your florist, ask which flowers will be in season on your wedding date so you can make informed choices that will have the smallest environmental impact. Ask them to tie bouquets using environmentally-friendly products such as hessian or plastic-free wrap.
Other ways to go green with your wedding flowers include making or renting fabric flowers or using dried flowers if the ones you want aren't in season. They look absolutely incredible and last for up to three years after your wedding day, making them a stunning memento of your special day.
Reuse And Recycle
When thinking about how to decorate your wedding, buying new is rarely a sustainable way of doing things. Instead, have a root around in your local charity shops, online marketplaces or ask your friends and family if they have anything suitable before buying your own. Re-using objects from other people's weddings gives them new life, saves the planet and also works out a lot cheaper for you! When you've finished with them, donate them back to the shop so that another couple can enjoy them as much as you have.
Give Out Sustainable Wedding Favours
Firstly, you don't need to provide a wedding favour at all, but if you want to gift something to your guests, there are a plethora of eco-friendly ways of doing it! Why not make a charity donation in their name? It's a lot more meaningful than giving them a trinket they'll probably never use again, and definitely more planet-friendly. If you want to give them something to help them remember your special day, plants or seeds make thoughtful and sustainable wedding favours. Alternatively, support your local farm shop and gift your guests some delicious jam or biscuits. There'll be no food wastage with such delicious presents!
Have a Green Menu
When choosing your venue, ensure that they will either allow you to choose your own vendors or that they use sustainable ingredients for their menus. Buffets are probably the least eco-friendly option as they are always over-catered and result in a lot of food wastage. If you are able to choose your own vendors, try to make sure they use sustainably sourced produce. You'd be surprised how important this is to many catering companies these days! Chicken or pork will always be a more sustainable option than lamb or beef. Of course, for an even more environmentally-friendly impact you could consider a vegetarian or even vegan menu, and of course – insist on reusable cutlery!
Source A Sustainable Wedding Cake
It's important when deciding on your wedding cake that you check with the baker that they are only going to use sustainably sourced products to create your cake. Many cake makers are taking this very seriously now and make sure to use local farm produce, fairtrade products, seasonal fruits and vegan alternatives to create delicious masterpieces!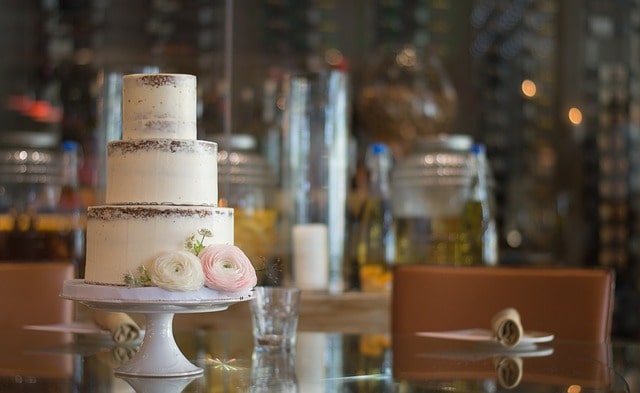 Use Biodegradable Confetti
It's probable that your venue will insist on this anyway. Steer clear of throwing paper and plastic around and use natural options instead. These include rose petals, lavender, and dried flowers but you'll find a whole range of options with a quick Google search!
Travel Together
We talked earlier about how guests travelling to your wedding can increase your carbon footprint by more than you might feel comfortable with. If you've booked a wedding out in the countryside and guests have to travel a long way from their town-centre hotels to get there, you could always have them all travel together. A single coach will harm the environment far less than several cars and you could always have everyone travel in style on a vintage bus or even a party bus! You can use whatever form of transport you choose to help your guests get between your ceremony and reception venues as well, (although choosing the same venue for both is definitely a more eco-friendly option!)
Honeymoon In The UK
There are so many beautiful places to honeymoon in the UK, and none of them involve flying! Without travelling to the far-flung corners of the earth, you won't be contributing any more than necessary to your carbon footprint and can experience some of the most breathtaking scenery on the planet.
A Final Thought
We hope that you've discovered some sustainable wedding ideas for your big day. If you're interested in hiring a wedding band or wedding musician take a look at the incredible selection at Entertainment Nation, and remember you'll be helping the environment when you book!