We're thrilled to say live entertainment is on it's way back to normal! Outdoor entertainment has always been a popular choice for summer weddings and it's making an exciting comeback.
Planning your big day means diving into a whirlpool of wedding inspiration and ideas, especially ones you may not have considered before. If you've booked an idyllic outdoor venue, pictured an acoustic act playing you down the aisle, or imagined chilling in the sun to folky festival vibes, then outdoor entertainment could be that key ingredient to make your day perfect!
With outdoor wedding music set to be one of the most popular entertainment choices in the near future (for obvious reasons), we thought we'd put our years of hard-won experience to use and create this comprehensive guide to planning outdoor wedding entertainment.
From the most popular bands to common pitfalls, everything is covered – and if it isn't, get in touch with our friendly team, who'll be happy to answer any questions.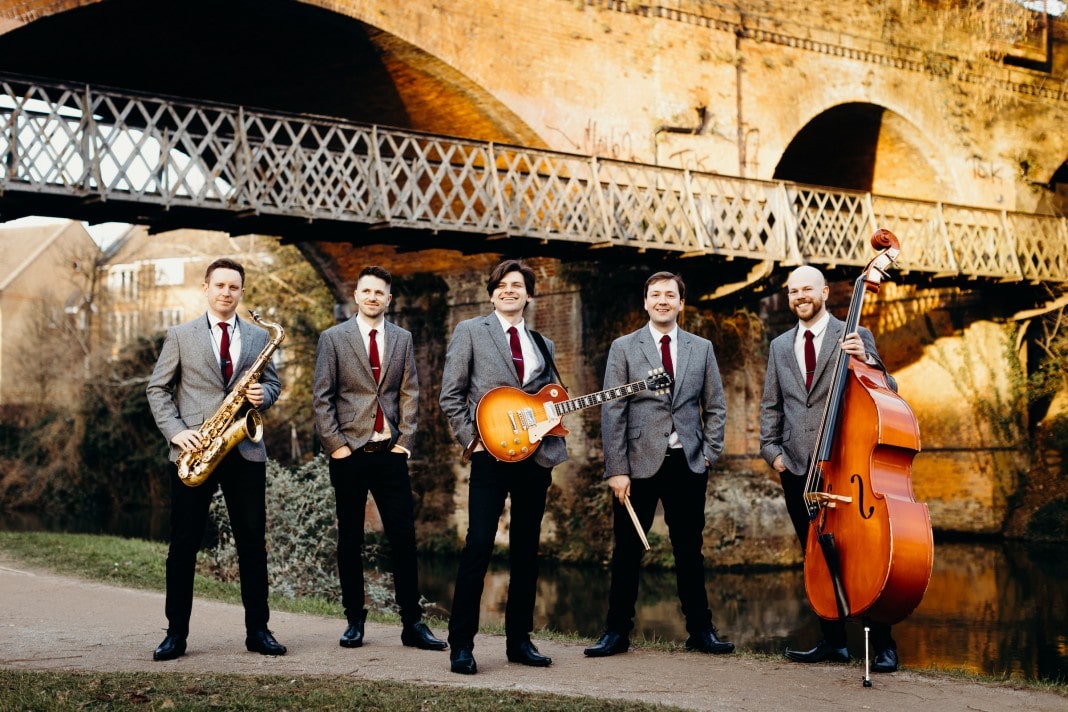 The Brogues
Things to Think About If You're Having An Outdoor Wedding Reception
Permission
As obvious as it may be, the first step is to check you've got permission to have outside entertainment. Lots of venues across the UK have dedicated areas for outdoor weddings, from ceremonies and drinks receptions to marquee receptions, but some may be restricted to indoor weddings due to location, space and noise restrictions (we'll get to that in a moment).
If you're not holding the event on your own property or at a licensed venue, then you'll need to get the landowner's permission to host live entertainment. If the owner doesn't legally have permission or a license for live music on their land, this is something you'll need to discuss with them directly.
Time of Year
Having your entertainment outside can be exciting and interactive for your guests, but only if your guests are outside too! Something to consider is the time of year you're getting married. If your date is during the gloomier months, you'll have to think about the practicality of having your guests outside.
Planning ahead is required but it's by no means impossible! You can provide heaters, an overhead cover, blankets and more. It's also a good idea to let your guests know to bring coats too. It sounds rather cosy if you ask us!
It's the same situation for a summer wedding; if you're getting married during the peak summer months with (we hope) scorching weather, provide some shade for your guests and have plenty of sunscreen alongside the hand sanitiser!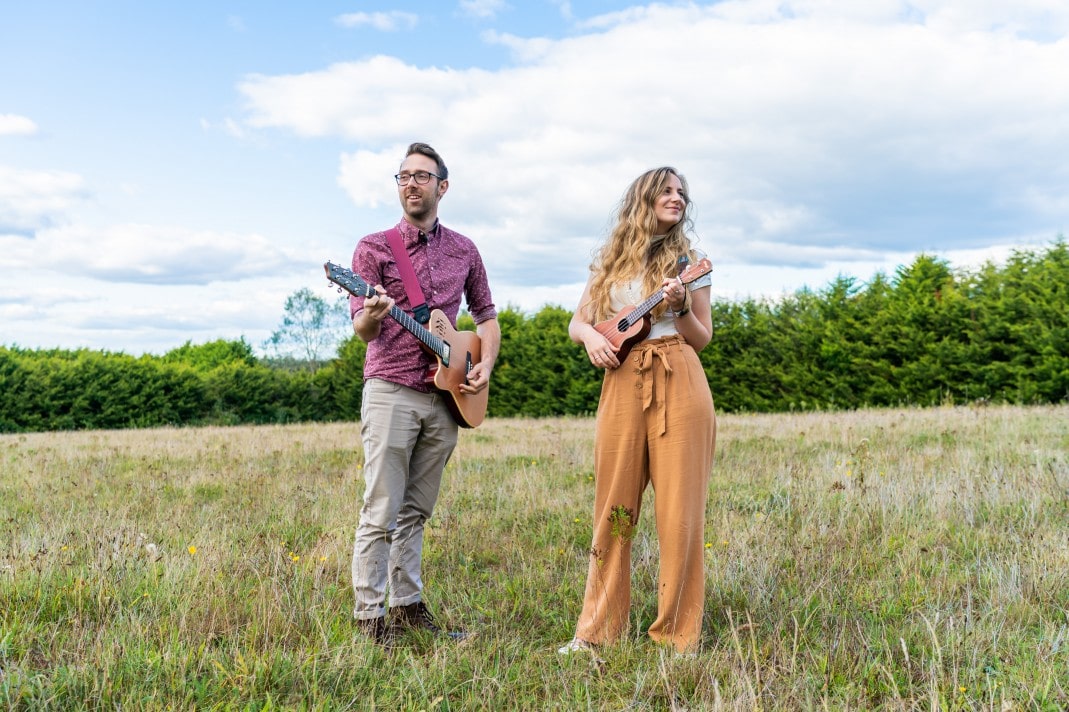 Sundrop Duo
Weather
We've already alluded to the weather above, but we're British; we're going to talk about it some more.
Unfortunately, one thing none of us can control is the weather. BUT… we can prepare for it! Outdoor areas for weddings can be kitted out with gazebos and other outdoor shelters to make sure both guests and entertainers are kept dry during those rainy days and in the shade during sunny days.
Sound Restrictions
Depending on the location of your wedding, your venue may have sound restrictions. For larger venues with vast surrounding grounds, rules may be different compared to a venue in the middle of the city or urban residential area. Restrictions may include a live music curfew or a volume or decibel limit.
Even if your venue has noise constraints, it doesn't mean you can't have outdoor entertainment it just means that certain act types will be more suitable for your wedding like an acoustic act. There are hundreds of acts and countless styles to choose between so it'll narrow your search!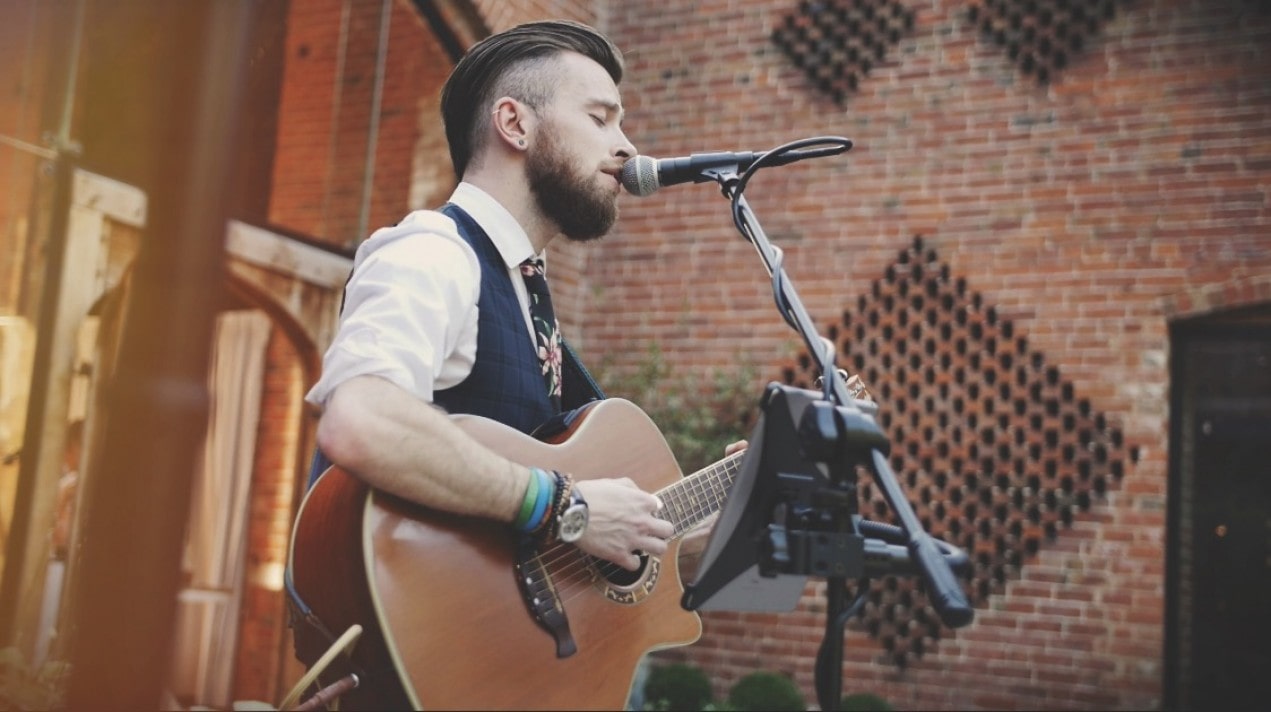 Matt Taylorson
Your Guests
It's always important to think about the audience for your chosen entertainment, AKA your guests. Some entertainers, such as string quartets or jazz ensembles, set a relaxed atmosphere and keep conversations bubbling as your friends and family drink a glass of champagne during your drinks reception.
If you're after an energetic entertainer to get involved with your guests, you may decide on a magician or roaming band to focus your guests' attention whilst you're getting your photos taken. Your theme and size of your celebration are additional considerations when choosing your act.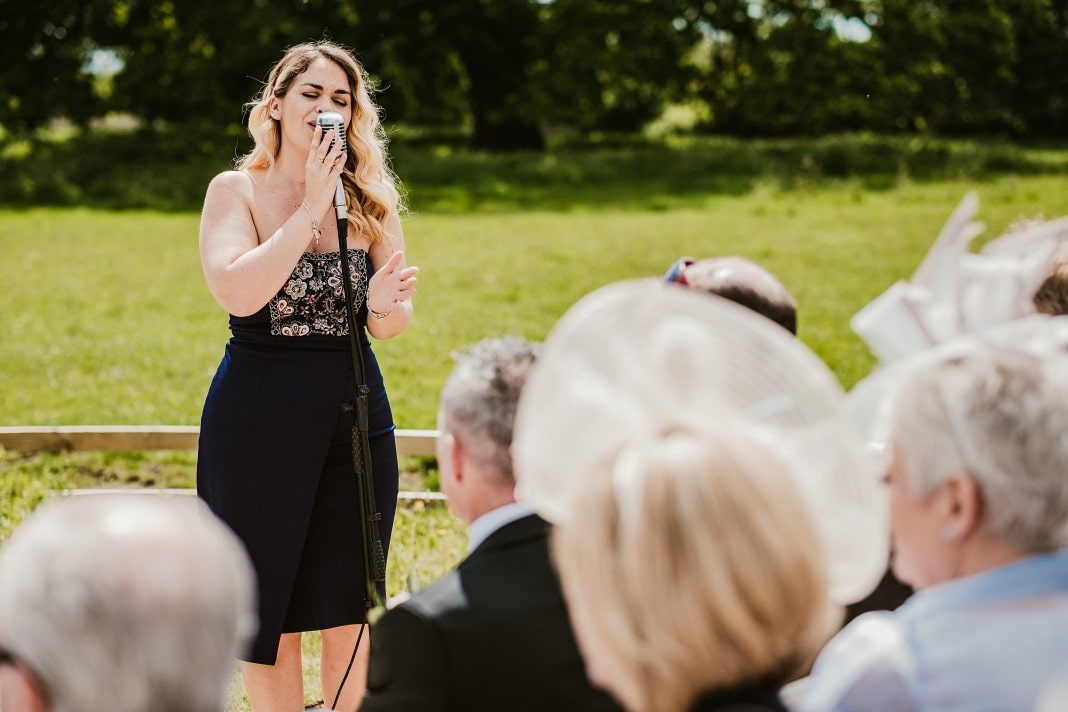 Via Joy
Outdoor Entertainment Requirements
Power Supply
Booking a band or performer that requires amplification means you need power. If you're using the outside space of a venue then they may already have suitable areas where a power supply is easily accessible. If there's no ready supply of power, some acts can provide battery-powered equipment if notified in advance, so be sure to ask.
The good news is, there are plenty of acoustic acts who can put on a memorable performance without any power – some may even roam amongst your guests! Check out our recommendations below or have a browse through our acoustic wedding bands.
Performance Area
Similar to the above, you want to make sure your musicians are set up somewhere where they can be seen and heard so everyone can enjoy them as much as possible!
Your venue may have a designated area for live performance or you may need to pick the ideal spot for them to set up. The sound of music travels further in open areas but you'll want to have a good view of the show.
Your act will require a flat and dry surface to ensure their personal safety and the protection of their equipment. Once they have that and a power supply (if required) they are nearly set to get entertaining!
Shelter
Your band or musicians need overhead cover to protect them and their equipment from the elements. It doesn't matter if it's a gazebo, marquee, or homemade tarp bivouac, as long as your performers are sheltered from the burning sun or the incessant rain (or both), they'll be ready to give you and your guests their best performance.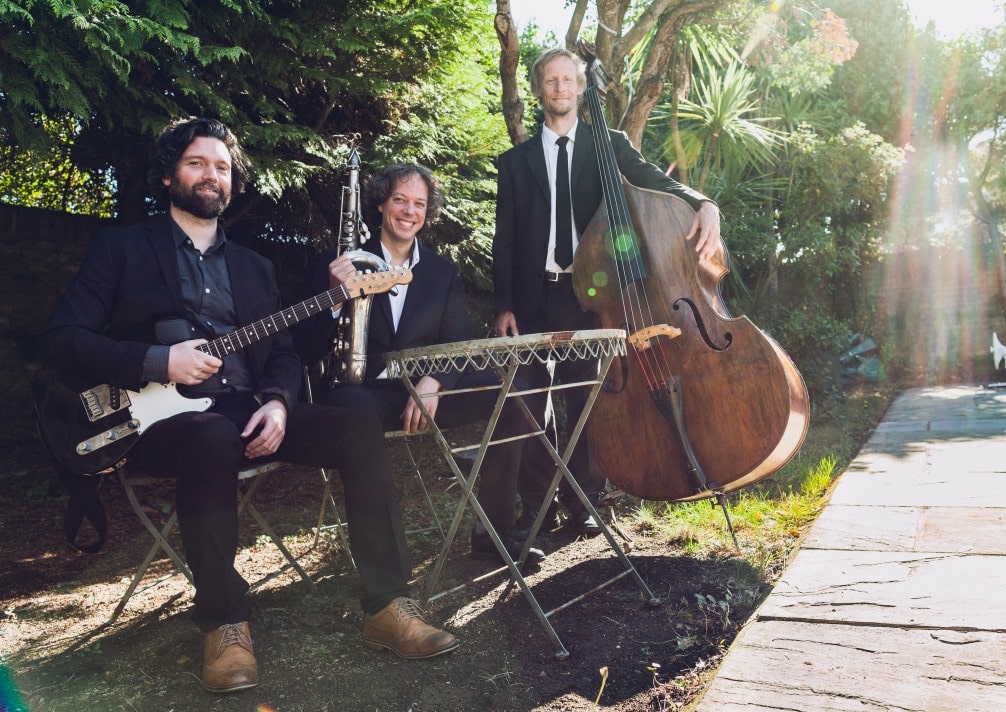 The Darcy Gents
Public Liability Insurance
Your venue may require your act to hold Public Liability Insurance (PLI for short). Luckily, all of our acts hold PLI up to £1m cover, with certificates available on request.
Outdoor Wedding Entertainment Ideas
So you've got the logistics down, now it's to the fun part…picking your entertainment!
There's a huge range of musical styles that can offer different vibes. From upbeat pop hits to smooth jazz numbers, classical pieces to feel-good classics, there are so many options to make the music one of the highlights of your day. And you don't have to limit yourself to music either! Here are our recommendations for acts that work well at weddings under the open sky:
Outdoor Entertainment Inspiration
We've picked a few of our favourite outdoor entertainment specialists below. There are loads more great acts to look at, so make sure you have a browse or give our team a shout for tailored recommendations.
Wandering Wings
This exciting 4-5 piece band are experts in wedding celebrations and feel-good fun! The Wandering Wings musicians are all vastly experienced and passionate about their craft. Their harmonies and signature sound is not one to be missed when they deliver foot-stomping renditions of folk-pop hits from the likes of Mumford and Sons and George Ezra. Their repertoire spans even further with songs from throughout the decades, including soul and Motown favourites and chart-topping classic pop anthems.
Wandering Wings are suitable for both fully-amplified sets as well as acoustic roaming sets, meaning you're spoilt for choice when organising your outdoor wedding.
Brass Pack
Turn up the party with a lively brass band like Brass Pack. With infectious rhythms and beats that you just can't resist but dance to, Brass Pack deliver a New Orleans festival atmosphere to your afternoon or evening.
Brass Pack range from a 5-9 piece brass band, with trumpets, trombone, sousaphone and drums to crank up the fun and energy as you celebrate the start of married life. You've never heard your favourite pop, soul and indie songs quite like this!
Shelby Street
Unique and uplifting music from Shelby Street could be the final element to make your day unforgettable. A 4-piece of 'free from wires' musicians, Shelby Street interact with your guests and add an intimate feel to your wedding day entertainment.
This quartet features two incredibly charming vocalists with acoustic guitars, saxophone and percussion to create authentic and dreamy stripped-back covers of modern hits, throwback classics, signature soul tunes and rock n roll numbers.
Completely acoustic and suitable for any setting, Shelby Street are a top pick for your alfresco celebrations.
Swing Time Trio
Swing Time Trio are a sensational and youthful 3-piece who've perfected their performance of staple jazz and swing tracks to inject a classy and sophisticated atmosphere to your big day.
Swing Time Trio's talent shines through their sets as they not only deliver jazz pieces, but also well-known pop classics with a jazzy twist. Set the tone for your wedding celebrations with a glorious backdrop of the smooth sounds of Swing Time Trio!
The Wildermen
Keep it chic with a festival folk trio of acoustic guitar, double bass and drums like The Wildermen. This dynamic 3-piece are immensely talented and have bucket loads of energy to get everyone moving during your drinks reception or evening party.
The Wildermen's trademark style is upbeat, feel-good anthems that all of the family will sing-along to! From Stevie Wonder to Bruno Mars, Mumford and Sons to Maroon 5 – they've got you covered. If you're on the hunt for a band to pull everyone to the dance floor (indoor or out), these guys are it!
Expert Advice from our Friendly Team
If you'd like to speak to one of our incredibly dedicated team of expert advisers about your wedding day plans, ideas and preferences, please get in touch via 0800 53 000 35, info@entertainment-nation.co.uk or LiveChat in the bottom right corner.
More blogs you might like
Wedding Entertainment to Make Every Moment of Your Day Magical!
The Best Wedding Bands with Saxophone!