Are you looking to book entertainment for your wedding but don't know where to start? Don't worry, if you keep reading, you'll soon have a great idea of what types of act are available for hire and more importantly, how much each is likely to cost.
Looking To Hire A Wedding Band?
View Contents
Why Book Live Wedding Entertainment?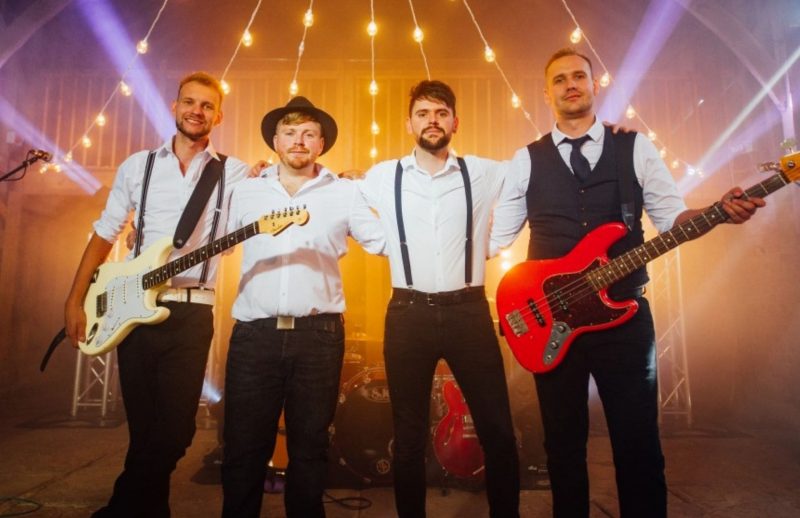 Dance Floor Fillers
Live musicians create an unrivalled atmosphere, bringing energy and emotion to a room that isn't possible with a playlist. They can read a room and play the perfect song to flood your dance floor and get your guests jumping, or slow things down for a romantic moment when needed.
Whether you choose a wedding band, DJ or solo musician, you can add that personal touch to your special day and create an unforgettable experience for your guests. Whatever your budget, Entertainment Nation will have the perfect act for you!
So without further ado, let's start with what's likely to be the main entertainment at your wedding…
How Much Does Evening Wedding Entertainment Cost?
Wedding Bands come in all shapes and sizes. Whether you're in the market for a great-value duo or a luxury, show-stopping sensation, all the wedding bands at Entertainment Nation will put on an unforgettable show, interact with your guests and provide an incomparable experience.
Wedding Bands – £750 to £2,000+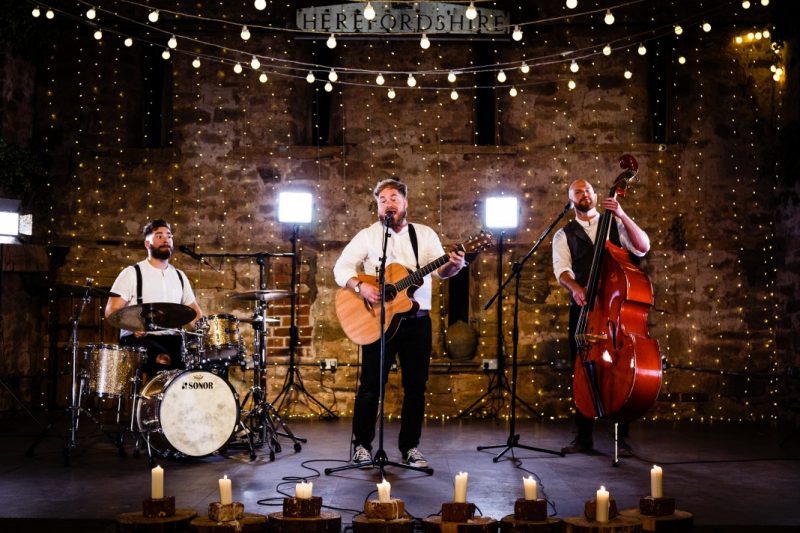 The Wildermen
If you want to get the party started, you should definitely book a wedding band! For a band with three members, you can expect to pay between £750 and £1600. If it's four-or-five-piece bands you're looking to book, you should budget around £1400 – £2000. For more info, check out our post on how much it costs to hire a wedding band. As an example of what to expect, have a listen to The Footmen and Skyknights!
The Footmen
County Kings
Wedding Duos – £500 to £800+
Duos are a great option if you are trying to keep costs down, but still want an exciting, fresh and memorable night for your guests. For this type of act, you can expect to pay anything between £500 and £800+. Check out two of our favourite acts – Vermillion and Summer Drive!
Vermillion
Summer Drive
Wedding DJs – from £500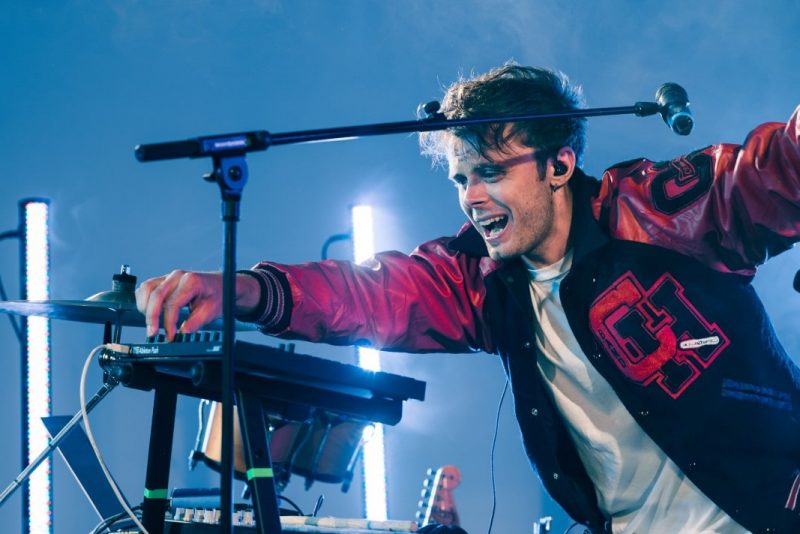 Should you hire a wedding band or a DJ? Well from a cost perspective, a DJ is nearly always going to work out cheaper (unless you want to book Calvin Harris of course!) A pro wedding DJ is likely to cost from around £500.
A DJ is a great choice for the budget-conscious and a good one can read the room and use their experience to keep guests having a great time all night. They can take requests, and if you want, they'll allow you to choose some tracks you want to hear in advance.
However, if you want to bring the music to life, you can't beat the showmanship and unique style that a live band can bring to your wedding reception.
DJ and Live Musician – £550 – £3000+
If you're after a DJ but also want something a little extra special for your wedding reception then look no further than our incredible DJ and live musician acts! They combine the best of both worlds and can be anything from a DJ and live drummer or saxophonist to an entire band who play with the DJ to create a completely unforgettable performance and unrivalled atmosphere. Lux Collective are an excellent example of what can be achieved with these talented musicians!
Lux Collective
Show Bands – £2,000+
If you have the space and the budget, why not hire a luxury show band? With musicians and singers galore, they are sure to dazzle and charm even the most reserved wallflowers onto the dance floor! These types of bands might cost a bit more but are worth every penny! Here are One Nation – enjoy!
One Nation
How Much Does Daytime Wedding Entertainment Cost?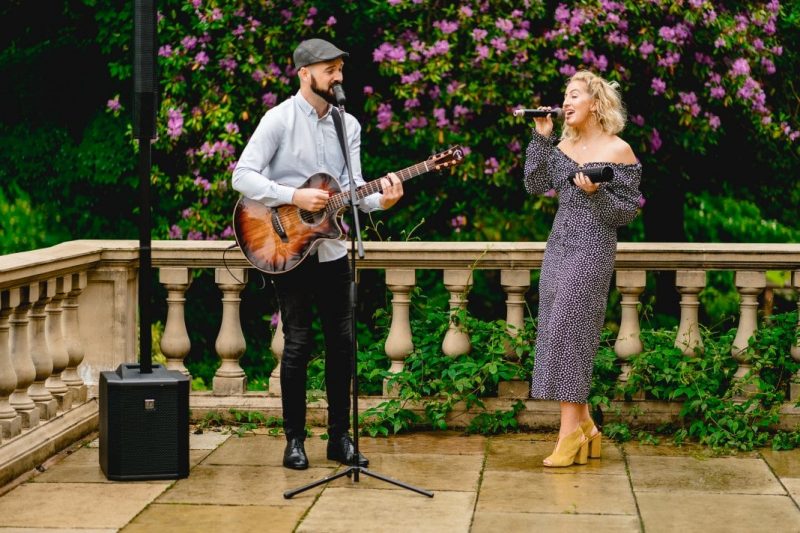 Strawberry Champagne
Your reception drinks or wedding breakfast deserve care and attention when it comes to music. You can add extra magic and sparkle to these parts of your day by hiring a live musician. Whether you'd like to create a chilled-out live-lounge style vibe or want to warm up your guests for a night of dancing, you're sure to find musicians to fit the bill!
By the way, if you've chosen a band for your evening entertainment, it's worth checking if they offer additional daytime acoustic sets. If they do, this will nearly always work out more cost-effective than hiring a separate act.
Acoustic Solo and Duos – £400 to £900
On average, if you choose to hire an act separately (usually a solo or duo act), expect to pay between £400 and £900 for two 60-minute sets. Here are some examples of the fabulous acts available to hire to liven up your day – Animo and Pine Acoustics!
Animo
Pine Acoustics
Roaming Bands – £1,000+
If you're looking for entertainment that is a little more interactive, why not consider a roaming wedding band? Without the constraints of wires, plugs and speakers, a roaming band can wander amongst your guests, providing a fun, uplifting and memorable experience. What's more, many of our evening bands offer a roaming set so you can hire the best of both worlds in one booking. Sneak a peak at Shelby Street now!
Shelby Street
Classical Musicians – £200 to £700+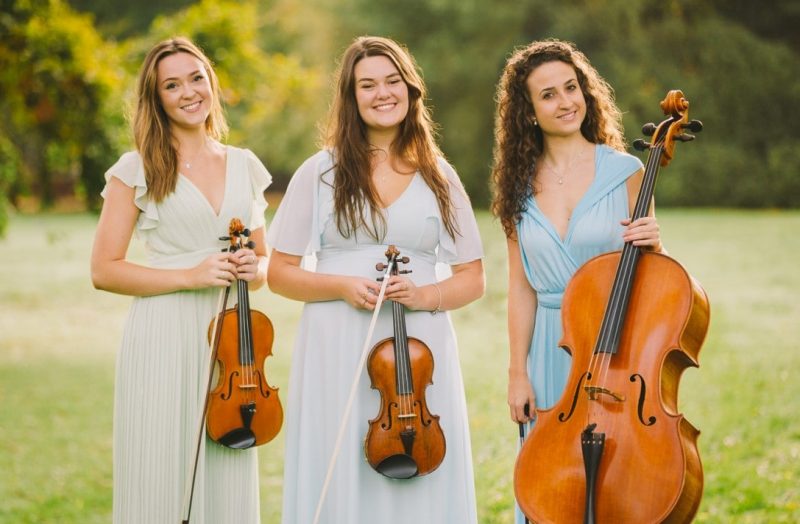 Gracella Strings
A traditional string quartet, the dulcet tones of a harp or an uplifting gospel choir are all dreamy choices to accompany your walk down the aisle. A performance from live musicians during your wedding ceremony will take your breath away, heighten emotions and sound simply beautiful. They can add elegance while you sign the register and play you back up the aisle as well. Magical!
A harpist, violinist, pianist or classical singer will cost between £200 and £400 and a string quartet around the £600-£700 mark. Go ahead and take a look at our classical musicians, or have a listen these stunning acts: Saturn Strings and Anthea!
Saturn Strings
Anthea
A classical instrumentalist is not just ideal for your ceremony. Any of our classical acts will bring elegance and refinement to your drinks reception or wedding breakfast too!
Rat Pack Singers – £400 to £600
Of course, you don't have to hire an acoustic act! What about a rat-pack or jazz singer? They'll be the talking point of the party when they bring sophistication and class to your Champagne reception. If this idea sounds up your street, budget around £400-£600. Check out Mr Swing!
Mister Swing
Saxophonist – £350 to £750
Have you considered a saxophonist for your daytime entertainment? These versatile musicians can play everything from mellow sax classics to Ibiza chill to create the perfect relaxing vibe for your reception drinks or wedding breakfast. Many will even pair up with a DJ in the evening (or daytime!) for an incredible floor-filling performance! Here's Mojo Sax doing what he does best.
Mojo Sax
Jazz Band – £500 to £6000
If you really want to push the boat out, a jazz band is the ultimate in classy and sophisticated entertainment. Imagine your guests sipping champagne and listening to sumptuous jazzy covers of old favourites and modern classics. No-one will forget a statement like this in a hurry! Here are the suave and immensely talented Hi-Hat Jacks, to give you a flavour of they type of act available.
Hi-Hat Jacks
How Much Does Alternative Wedding Entertainment Cost?
Once you've sorted your music, you may want to consider entertaining your guests in other ways too. To add some extra whimsy and wonder to your wedding, why not consider one of these types of alternative acts?
Magicians – £300 to £500+
Whether you're searching for sensational card tricks, incredible illusions or an astonishing mind-reader, you'll find a magician who will leave your guests open-mouthed and amazed! A magician usually costs around £300-£500.
Paradox Magic
Caricaturists – from £400
Give your guests a giggle and a memento to take home. Our incredible caricaturists will capture their likeness in the blink of an eye – they won't be able to resist! A caricaturist costs from around £400.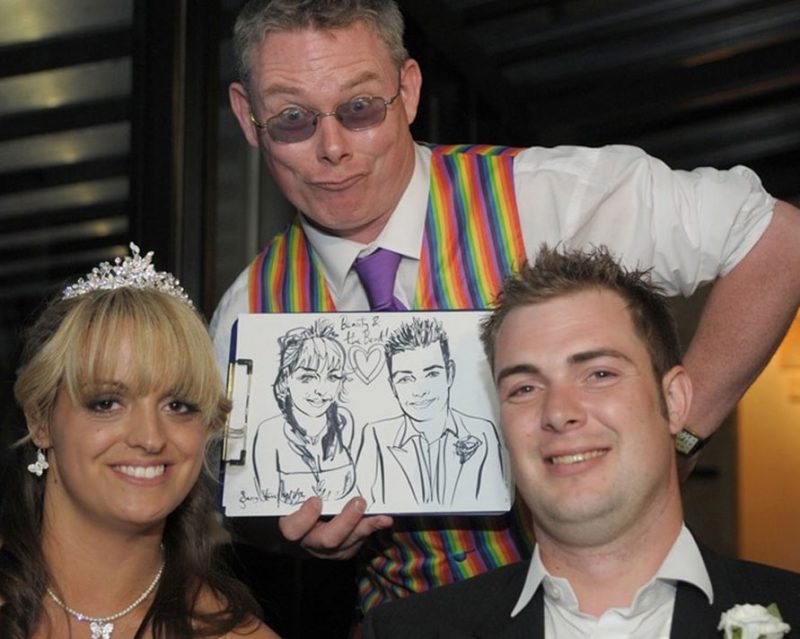 Speedy Steve
Singing Waiters – £650 to £1,000+
Singing waiters
are a sure-fire way to surprise and delight your guests at your wedding breakfast. They'll seamlessly blend in with the crowd before suddenly bursting into song with extraordinary vocals and bags of energy! A troupe of singing waiters will normally cost £650-£1000, depending on the act and how many waiters you book.
Supreme Singing Waiters
How Do I Find My Dream Act?
Now you're ready to browse through the best wedding entertainment in the UK! If you'd like to make a booking or have any questions, get in touch on 0800 53 000 35, click the live chat button at the bottom of the screen or email info@entertainment-nation.co.uk. We can't wait to hear from you!