Welcome to In The Spotlight, our regular look behind the scenes at the lives and careers of our amazing artists here at Entertainment Nation. In this latest edition we had a chat with the sensational Starlets Groove!
Starlets Groove are a stunning all-female wedding band from London whose scintillating, party-pumping repertoire of huge hits from Madonna, Adele, Prince, Beyonce, Stevie Wonder and Aretha Franklin is sure-fire recipe for a jam-packed dance floor. These fabulous ladies have been performing together for many years, perfecting their incredible show. Consisting of exceptional lead vocals, keys, guitar, bass and drums, this dazzling 5-8 piece function band fills both the stage and the dance floor at weddings, parties and corporate events across the UK.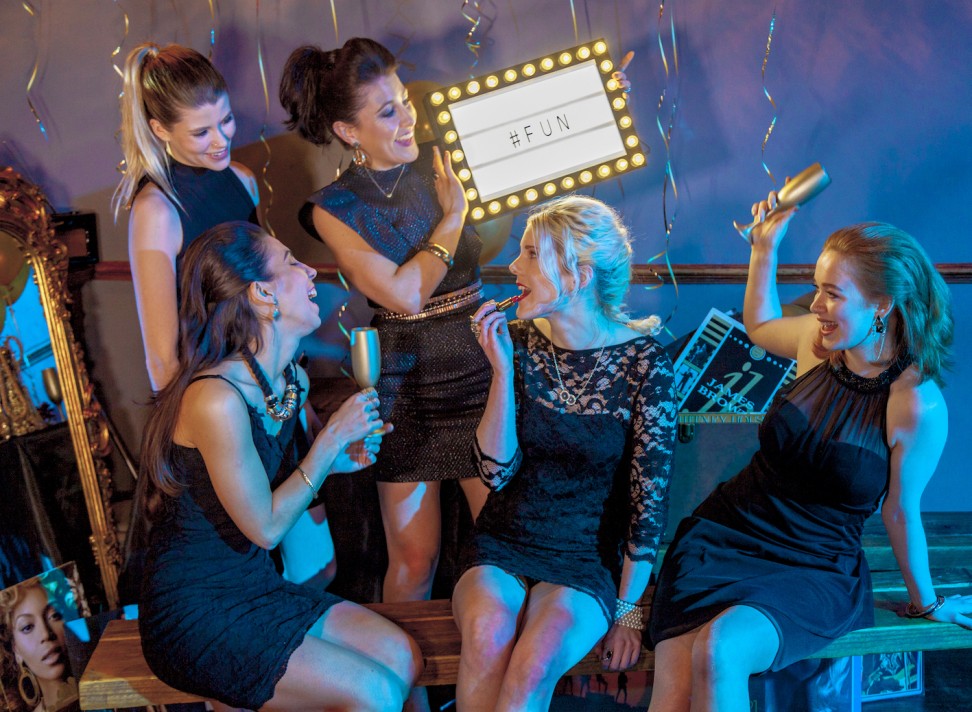 Who are Starlets Groove?
We are a 5-8 piece professional, talented and creative band made up of music-loving ladies! We're all about top quality service, style and an unforgettable night of live music entertainment as we add fresh touches and live arrangements to all your favourite tunes young and old. We get our crowds dancing like Tina Turner, playing air guitar and rapping on the mic like a pro – energy and fun is the name of the game when we bring the Starlets Groove party to you!
Which song is your favourite to perform?
So if you're talking stand-alone belters it would have to be our epic 7-minute version of Proud Mary. This gets everyone involved and builds to a frenzy of everyone doing Tina's dance moves and going crazy over the dance floor! So much fun!
But then we've also got a number of favourite medleys we've put together. One of our most original and creative would have to be our mash-up of Say A Little Prayer For You (disco version) into Shackles by Mary Mary (another guaranteed dance floor filler) ending with our live version of Doo Top (That Thing) by Lauren Hill (complete with rap of course by our lead and backing vocals). It's a real crowd pleaser and means the music is non-stop for three cracking tunes.
Out of the songs you've been asked to learn for a first dance, which is your favourite?
I think it would have to be 'Let's Get Married' by The Proclaimers. The bride's family were Scottish and they got really involved, singing along loud and proud and enjoying our live performance. It was a wonderful way to begin the show!
One final song question, which is the song you can always rely on to fill the dance floor?
Our whole repertoire is full of uplifting crowd pleasers but all generations never fail to get up for this funky medley we do: Get Lucky (Daft Punk) – Good Times (Chic) /Rappers Delight (Sugarhill Gang) mash-up – Happy (Pharrell Williams). Classic songs mixed with our creative touches and smooth transitions…winner!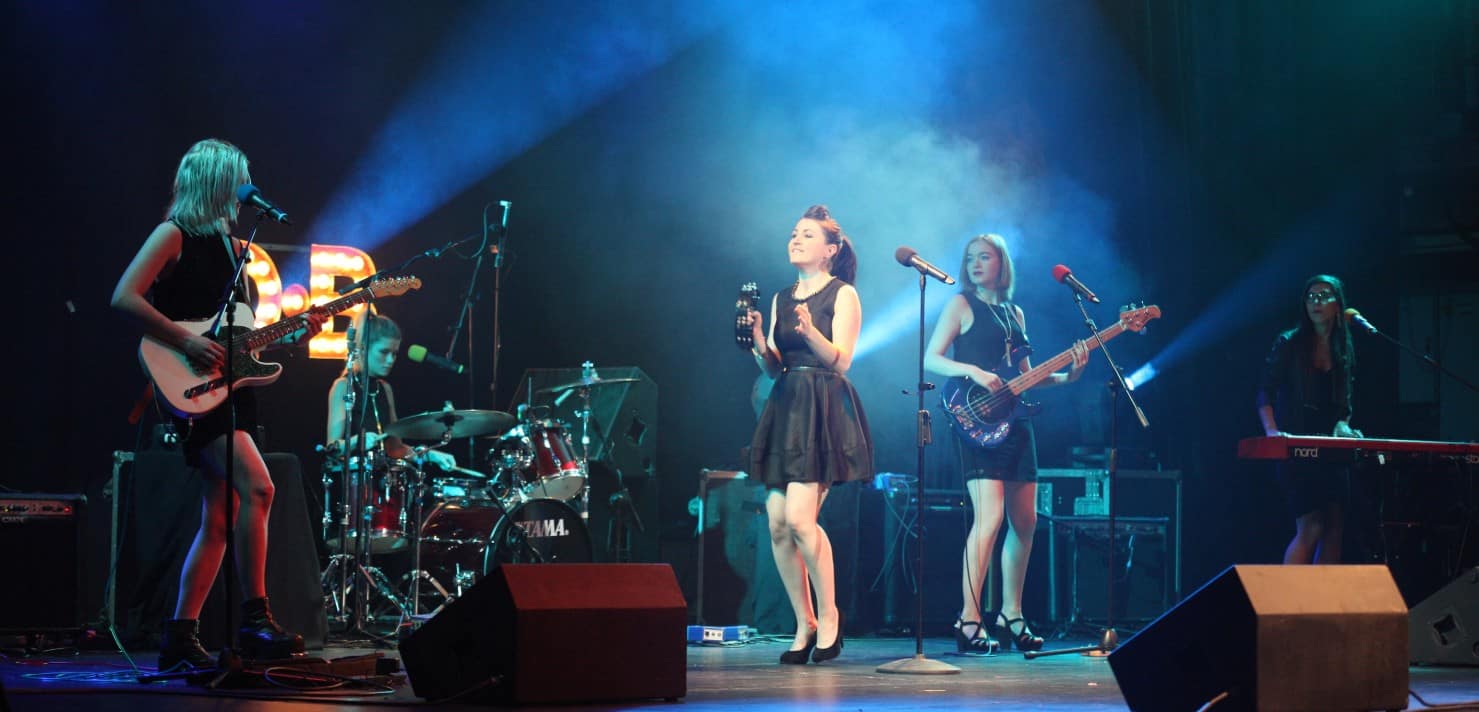 Do you get on with each other all of the time?
Bands are full of a range of personalities and we are no different but everyone in Starlets Groove respects each other's barriers and recognises the talent they bring to the lineup. We have a blast when we go out as an 8-piece, the more the merrier! Plus we love a band social and some drinks together – yes we've had a good amount of drunk times together so that's a yes to that one!
Who has the most annoying habit (and what is it)?
That would have to be our band leader and lead vocalist Karen… It doesn't matter how many times she sets it up (and that's countless times by the way) she never fails to forget how the playback monitors connect best to the mixing desk on the PA system. She's got pictures and little sayings she's created to help her remember the best way to link them all up but it always takes more than enough times and a few delirious moments for her to get it right!
What's the best thing about being in a band?
When all our hard work in the rehearsal room comes together and we can just let go on stage and have a blast together and with the crowd!
… and what's the worst?
Carting the gear around! Of course, it's part of the job and we always help each other out but maybe one day we'll be able to afford regular roadies and can just arrive all glamorous and perform with everything already set, that would be dreamy!
What's the weirdest thing that's happened to you at a wedding?
I'm not sure about one wedding in particular but we've got a group of beautiful and talented women in the band. When they get up in dresses, heels and perform a cracking set on their instrument like the true pros that they are it never fails to get a range of admirers coming over and seeing who's single at the end of a gig! The reality is not many of us but it's always worth an ask!
And finally…the most important question: Buffet or Hog Roast?
The thought of a hog roast has already got some of our strong meat eaters drooling at the mouth but what with a range of dietary requirements in the band it would have to be a buffet – much easier to accommodate everyone! Sorry Alex and Karen, I know how much you love a hog roast butty!
Hire Starlets Groove For Your Event!
Thank you to Starlets Groove for taking part in our In The Spotlight blog! We hope you enjoyed getting to know them as much as we did. To hire Starlets Groove for your event visit their profile and complete the quick and easy enquiry form!
At Entertainment Nation, we offer a huge range of top wedding bands, party bands and corporate event bands, so whatever your event, you're sure to find the perfect entertainment. For help and advice on live band hire, please get in touch with our expert advisers via email: info@entertainment-nation.co.uk, phone: 0800 53 000 35 or LiveChat.
We look forward to hearing from you!