Delve deeper into the sensational 6-piece band that is Railroad Kin!
As a little introduction, Railroad Kin are an outfit of 6 dazzling musicians who've known each other for many many years (more on that later!). They perform an incredible setlist of well-loved tracks from throughout the decades – think folk-pop, modern-day anthems, classic dance hits, 60s rock n roll and a sprinkle of indie-rock tunes for good measure. Their rustic style and feel-good energy match the fun and excitement you'll be wanting at your wedding reception. It's not a surprise that these guys are so popular!
We, the Entertainment Nation team, want to give you the opportunity to get to know our spine-tinglingly awesome musicians from the off! So, here is Railroad Kin in The Spotlight!
Who are Railroad Kin:
Railroad Kin are a group of 6 charismatic musicians that have been on the wedding scene for the last 7 years filling dance floors, making wedding memories for countless couples and just generally doing what we love.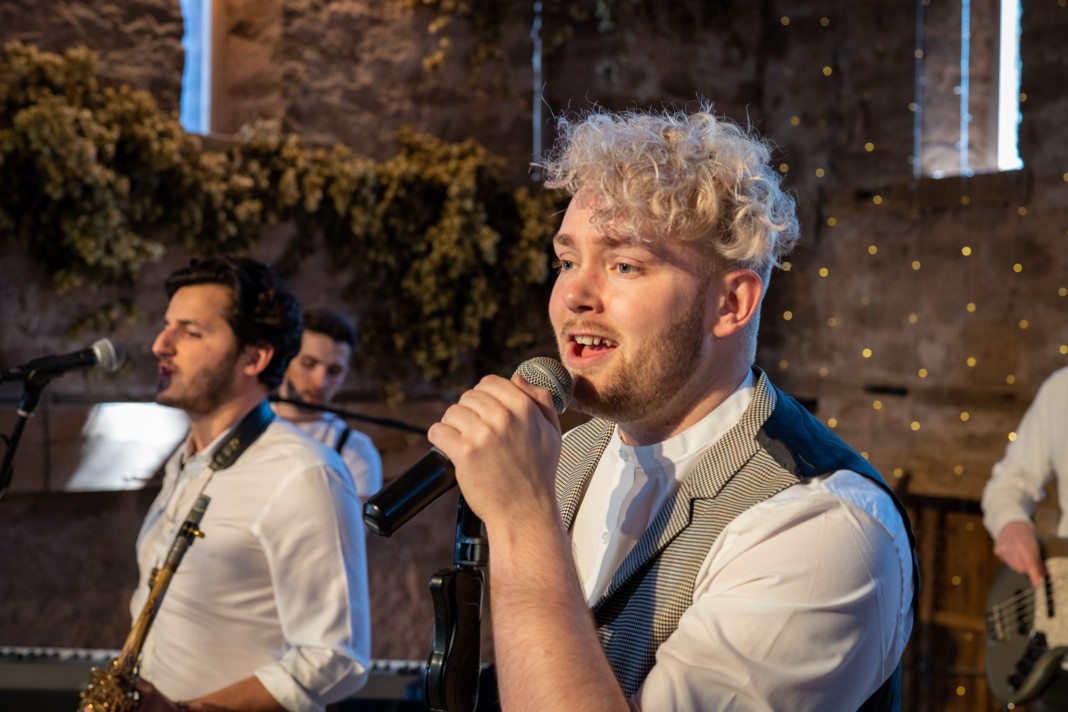 Give us a wow fact about you!
We've had our fair share of career highlights on stage with amazing musicians! Members of the band have been on tour with artists such as Ed Sheeran, Bastille & Rag'n'Bone Man!
What can a wedding couple/client expect when they book you?
A versatile setlist full of crowd favourites topped with an engaging frontman and terrific sax solos. A recipe for a good night!
Do you offer any optional extras?
We offer a range of extras such as upgrading to a manned DJ service, sax and DJ Afternoon sets to serenade your guests during the day, and also afternoon set options from a duo all the way up to our full 6-piece band.
Which song is your favourite to perform?
Without a doubt it's Queen – Don't Stop Me Now.
Which is the song you can always rely on to fill the dance floor?
For both the reason it fills the dance floor and the fact it's our favourite to perform, again we'll say Queen – Don't Stop Me Now!
Top requested song?
The Killers – Mr Brightside, because we can guarantee it'll bring the house down, and the guests know it will!
Top choice for a first dance song?
Perfect – Ed Sheeran (who else?!)
Favourite sing a long song?
The Killers – Mr Brightside… are we allowed to keep saying the same songs twice? Either way… EVERYONE knows the words to this one!
What inspired you to be musicians?
All of us have had music in our families that encouraged us to take up instruments from a young age. We stuck with it and here we are today!
Do you get along with each other all of the time?
Yes, most of us have known each other for the last 16 years as we were friends before we formed the band. We definitely feel like our closeness and the fact we know each other backwards shows in our performance.
Who has the most annoying habit and what is it?
Brett our Bassist. He floods our group chats with annoying memes and terrible jokes making other members miss important band-related messages!
What's the best thing about being musicians?
Being able to make a living doing what we love and seeing the impact we have on someone's special day. It's so great to celebrate with them on the best day of their lives and we have an equally awesome time performing for them!
… and what's the worst?
Getting home at 4am… it's not the usual 9 to 5 job, but it's worth it!
Most memorable moment of your career as musicians?
Outside the band memorable moments include, touring with the artists mentioned above, performing at the 2012 Olympic/Paralympic closing ceremonies, performing on 'The Late Late Show with Stephen Colbert' in New York and 'Later With Jools Holland'.
Weirdest moment/thing that's happened at a wedding/event?
A couple performing Men Without Hats – Safety Dance as their first dance. OR actually, the weirdest thing was a Keith Lemon impersonator being at a Christmas party we did. Probably. Not much weird happens thankfully!
Lastly… Your top tip for anyone booking wedding/party entertainment?
Always check the band's repertoire to make sure your staple tunes are included. Also, see if your venue has any sound limiters in place – an important thing that most people don't think about if you've never booked live entertainment before!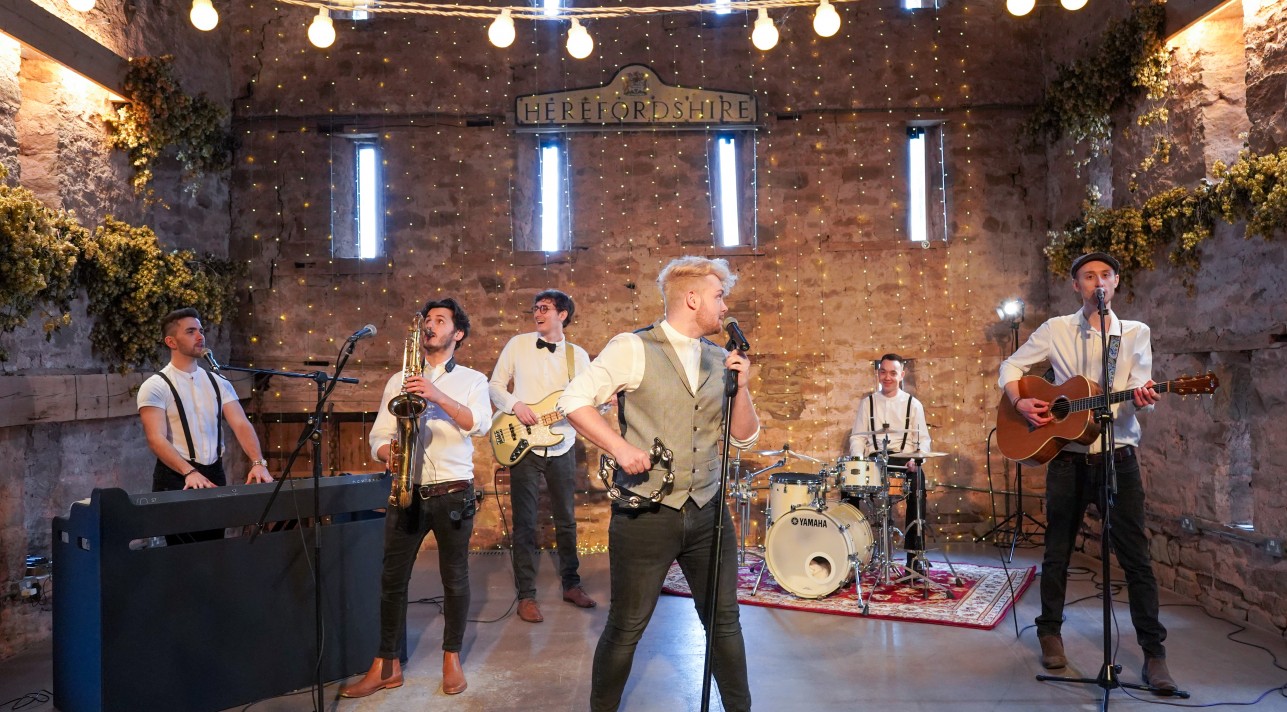 We're so pleased that the Railroad Kin guys took the time to chat to us about life behind the wedding band curtain. Thanks so much for your answers guys!
Be sure to check out their profile for even more information!