And… we are back with another one! Today we want you to meet Mona Vale Acoustics!
This acoustic guitar duo are known for their fresh and unique covers of the biggest chart toppers around, as well as older classic hits to fill your dance floor. Their "live lounge" sound is hugely popular for both small and large venues, with a diverse and varied set of songs to perform for you and your guests. These youthful musicians are exceptionally talented. They combine sensational vocals and impressive guitar playing, harmonising perfectly as they perform. Not only this, but they truly love what they do…as you will soon find out!
Without further ado, here is Mona Vale Acoustics In The Spotlight!
Who are Mona Vale Acoustics?
Mona Vale Acoustics are a 5* acoustic duo from the Midlands, made up of two of the best musicians in their field. Mona Vale perform at weddings, private functions and corporate events nationwide and further afield!
Which song is your favourite to perform?
Ell – Chainsmokers 'Closer' – it's upbeat, has some wicked harmonies/dual vocals and is a great sing along song
Ali – The Kooks 'Naive' – a personal favourite song that always pleases a crowd
Out of the songs you've been asked to learn for a first dance, which is your favourite?
Ell – No Diggity, a lot of fun to play
Ali – No Diggity!! Wasn't quite a first dance but it was requested and there sure was a lot of dancing!
Not your stereotypical first dance song…but we can see it being a real party starter!
One final song question, which is the song you can always rely on to fill the dance floor?
Ell – Definitely 'Don't Look Back in Anger'
Ali – I'd have to agree with Ell, it is a classic!
Check out their cover of Ed Sheeran's chart-topper Shape Of You:
Do you get on with each other all of the time?
Ell – It's important we get on, we have to! We spend a lot of time together so it's part of our job to get along. We certainly give each other a hard time though!
Ali – Apart from his ambitious hair styles he's alright, beggars can't be choosers now can they.
Who has the most annoying habit (and what is it)?
Ell– Ali has an habit of singing oasis at any given point! It's a good job I like Oasis, it's not annoying as such, but the closest thing!
Ali – I'm actually going to let him off on this one, he doesn't have any annoying habits, he probably thinks a lot differently of me!
There's nothing wrong with a bit of Oasis! Emphasis on "a bit"! Haha
What's the best thing about being a live performer?
Ell – The best part is definitely making a living off doing what you love. You're able to focus 100% of your time into focusing on what matters to you, and what matters to me is 'Music'. There's nothing better than never having to wake up not looking forward to the day ahead.
Ali – Someone once told me that if you make a living doing what you enjoy, you will never work a day in your life. That's how I feel about performing!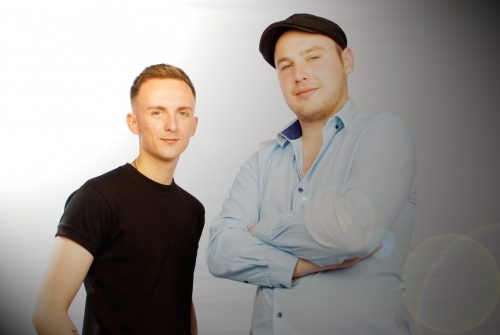 … and what's the worst?
Ell – There are so little things to choose from, although it's not so bad having a small amount of equipment – being an acoustic duo – i'd say the least enjoyable part is unloading the equipment when you get back home after a gig, you're tired, you've had a long drive and have lots of heavy equipment to move.
Ali – 100% agree with Ell on this one
What's the weirdest thing that's happened to you at a wedding?
Ell – The client provided a faulty generator, every so often the power would turn off randomly! Trouble was, the gig was in a marquee and the generator was also wired up to the lighting for the marquee….. oh and it was in a field…. in the middle of nowhere……. so when the generator failed, the whole place was pitch black! Luckily the guests saw the bright side and got their phone torches out and the whole audience finished the song off acapella every time the power went!
Ali – After a performance, I ended up catching the garter and was forced to dance with a lady in her 60's. Not exactly what I saw coming that evening!
And finally…the most important question: Buffet or Hog Roast?
Ell – Definitely hog roast! Too much cheesecake and vol-au-vents on a buffet!
Ali – It depends on how many people have beaten me to the buffet! But I'd generally go a hog roast, can't beat hot food at a gig!
Does that count as two votes to hog roast??
Scores on the doors are 6-5 to a delicious hog roast!
Thank you to Ell and Ali for taking part in our newest installment of In The Spotlight!
If you're interested in booking Mona Vale Acoustics for your wedding, party or corporate event, contact us over Email: info@entertainment-nation.co.uk Phone: 0800 53 000 35 or LiveChat on our website! Our friendly advisers are available 10am-10pm every single day, so please don't hesitate to contact us 🙂