A wedding band will usually play either two 60-minute sets or three 40-minute sets of live music during your wedding reception. There are lots of variations in between but these timings are pretty standard and representative of most bands you will come across.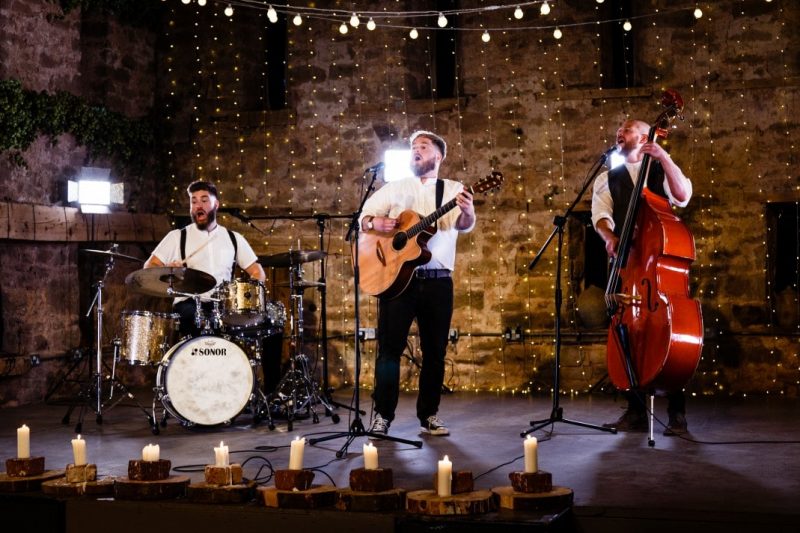 If you're in the market for a band for your wedding reception, firstly – congratulations! Secondly – you probably have lots of questions, especially about the logistics of it all. You'd probably like them answered before you go ahead and book, so keep reading!
What Time Will The Band Arrive?
Bands will normally arrive at your venue around 5:30-6pm, once your wedding breakfast and speeches are over. This will give them enough time to set up and do a sound check before they get onstage. A sound check will normally take around an hour but for larger bands it can take much longer.
It's advisable to usher your guests outside or into another room at this point, to give your band the space they need to set up and sound check. Your venue and band will be able to help you make this part of the day as unobtrusive as possible. It is often possible to arrange an early set-up with your band for a small fee. If not, sound checks can often get the guests excited for what's to come later in the evening!
If you've booked daytime wedding entertainment too, the band members involved will arrive beforehand to sound check for this too. Don't worry, they'll let you know how long they'll need and it won't take long.
What Time Will The Band Start?
Although you'll understandably be excited for the band to start as soon as possible, it's advisable to wait until around 8.30-9pm. No-one will want to dance straight away with a three-course meal in their belly! Guests will be more than happy to mingle and get some Dutch courage before hitting the dance-floor anyway, so there's no rush!
Will The Band Play My First Dance?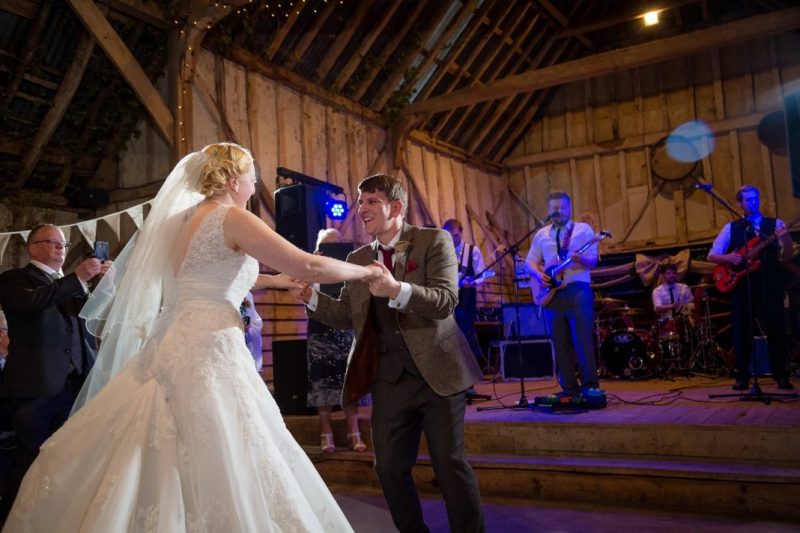 Most of the bands on our books will offer to learn your first dance as part of their standard package, and others will learn it for a small fee. Whether you want a traditional romantic number or something quirky and special to you, the band will be happy to help. If this is something really important to you, check when you book in case this service isn't offered by your dream band.
How Long Are The Band Onstage?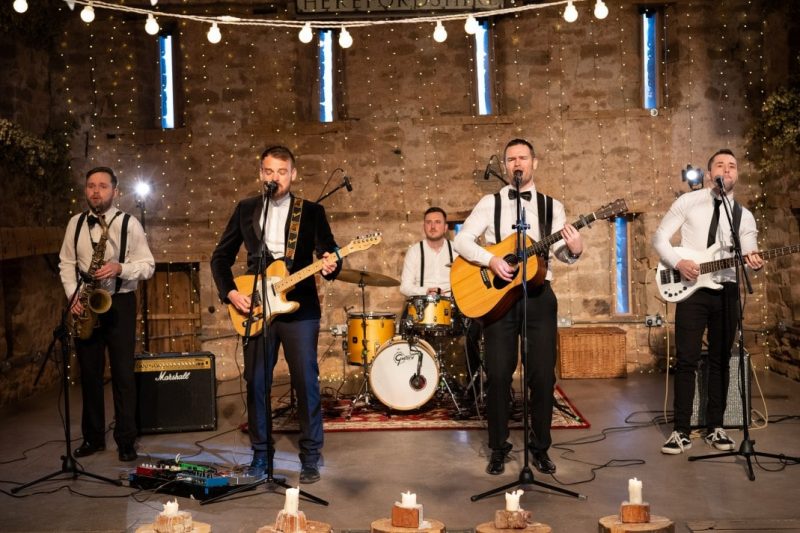 Your wedding band will normally perform for two hours, either in 2x 60-minute sets or 3x 40-minute sets over a 3-4 hour period. Some bands offer a wider variety of set lengths as standard and others are likely to be pretty flexible as long as you let them know plenty of time in advance. This will allow you to match their performance times perfectly to whatever else you have going on during your reception.
We work really closely with our acts, and if the band you love isn't offering the set lengths you'd like, let us know and we'll see if we can arrange it for you.
How Many Songs Are In A Wedding Band's Set?
Based on an average song lasting 3-4 minutes, you can expect to hear 15-20 songs in one hour or 10-14 songs in 40 minutes. Some bands like to mix it up with fun medleys to surprise your guests so in these cases you'll hear even more!
What Happens Between And After My Wedding Band's Sets?
After an energetic hour on stage, your band will deserve a break. During this time, nearly all bands will provide a DJ playlist service to keep the dance floor bouncing. The playlist will play songs that are in in-keeping with the vibe of your wedding. You're often able to suggest songs you would like to hear or if you want, you could even curate the whole playlist yourself to add a more personalised touch.
Sometimes bands will have a band member on-hand so your guests can make requests and some (depending on the style of band you've booked) will even offer a full DJ service! Whatever is provided (check at the time of booking), your guests won't be left without music to dance to, and when the band have finished, the music will continue until the end of the night.
Can I Choose Which Songs My Wedding Band Play?
At Entertainment Nation, all our bands have their repertoires displayed on their profiles so you can easily have a browse through. If there's anything you really don't want played at your wedding, let the band know and they won't play it. Similarly, if there are any songs you can't live without, the band can ensure they make it into their performance. Your band's experience of what works well and what doesn't, along with your preferences, will help the band to curate a setlist you'll love and that will keep the dance floor full all night long!
Some bands offer to learn and perform more than just your first dance so if this is the case, don't miss out on the opportunity to personalise the songs you hear!
When Will The Band Finish?
Most venues have a curfew of midnight, so your band will finish performing in enough time for them to pack up and leave the premises on time – usually about 11.30pm. (Remember the DJ playlist will continue while they are packing up).
If you're one of the lucky people who have booked a venue with a later curfew and want your guests to be able to party on into the early hours, many of our bands will offer to play an extra set or arrange a late finish – make sure you ask about this early on as it may involve an extra fee.
What If I've Booked Daytime Sets?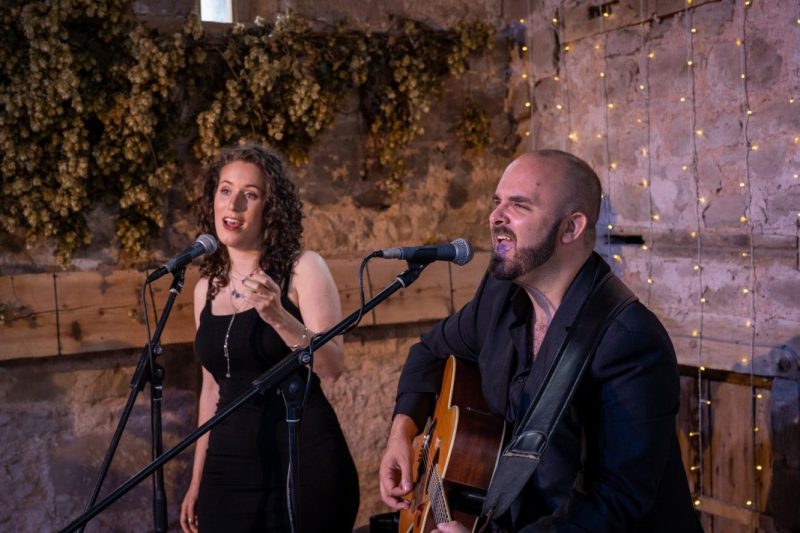 Many bands will offer daytime acoustic sets to entertain your guests at your drinks reception or wedding breakfast. If you choose this option (and we recommend that you do) the length of these sets will be outlined in your contract to help you plan out your day. The musicians will play songs that will help warm up your guests for the fun-filled evening to come, so everyone will be ready to party when the full band hit the stage!
What Do I Need To Provide For The Band?
It's really important that you provide your band with access to soft drinks and some sort of hot meal. They won't expect to sit down for your wedding breakfast, but allowing them to chow down on your evening food will always go down well, and mean they're all fuelled up to give their best onstage!
Now that you're well-versed in the ins and outs of wedding band logistics, you're probably ready to start choosing your band! Woooo!