We interviewed one of the hottest pop, rock and modern folk bands in the UK right now – Dance Floor Fillers! Their sensational repertoire caters for all audiences, performing floor-filling anthems dating right back to the 50s. But fear not, their show-stopping sets also feature incredible covers of the most current and up to date chart-toppers from the likes of Bruno Mars, Kings of Leon and Ed Sheeran as well as folky hits from Mumford and Sons and Avicii.
They have been performing together for years, rocking out in venues up and down the UK at wedding receptions, corporate events, parties, festivals and private functions! When you book Dance Floor Fillers, there's no doubt that your guests will be up on that dance floor all night, dancing until their feet hurt. With no shortage of positive reviews for this outstanding Suffolk wedding band, it's no wonder that they are busy all year through!
Without further ado, here are the Dance Floor Fillers – In The Spotlight!
Who are the Dance Floor Fillers?
The Dance Floor Fillers are four guys from Sudbury in Suffolk who live and breathe music. With over 50 years of gigging experience between us, we are sure to get everyone up dancing at your event!
Which song is your favourite to perform?
That's a tough one! We all like different songs for different reasons and often go through phases of loving some more than others. One that never gets old is "Sweet Child O' Mine" – Everyone always loves that tune!
Out of the songs you've been asked to learn for a first dance, which is your favourite?
We get a lot of different requests, most of which are just acoustic guitar and vocals which gives a more intimate atmosphere. The acoustic performance comes across more personal to the bride and groom, and that's always nice to be a part of. However we've been requested 'Don't Wanna Miss A Thing' by Aerosmith a few times, that has got to be a favourite of ours – an absolute classic!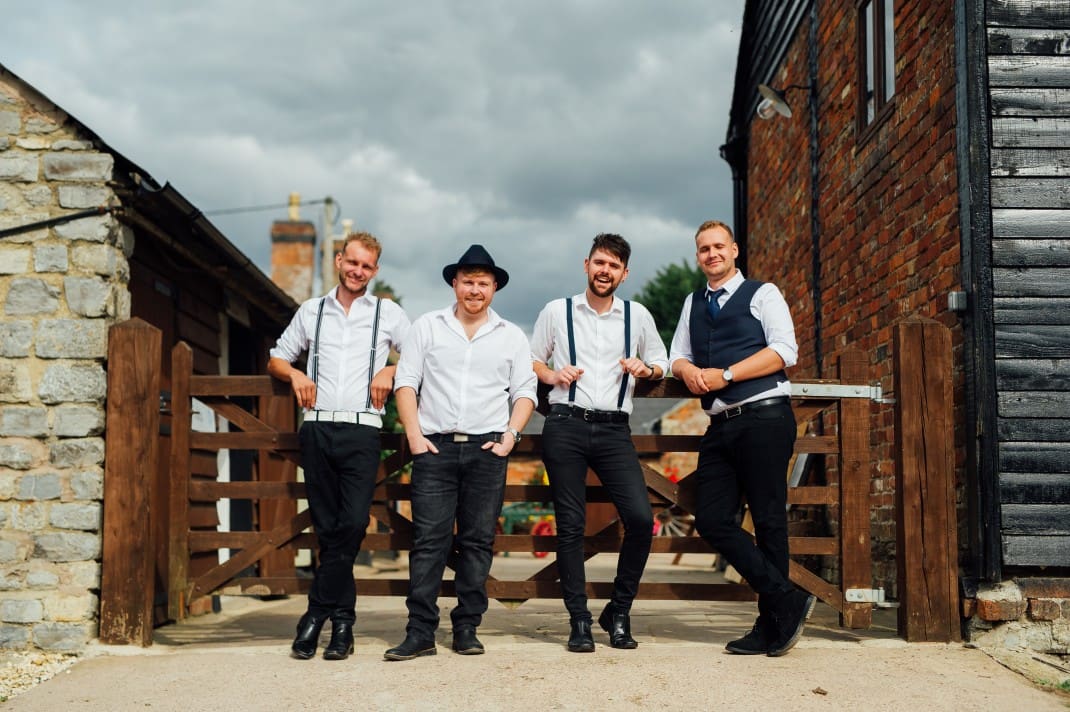 One final song question, which is the song you can always rely on to fill the dance floor?
There are a lot of songs that always get the dance floor moving, Wonderwall by Oasis or Jailhouse Rock are always great ones. Also, the song played at every wedding since the 80s, Footloose!!!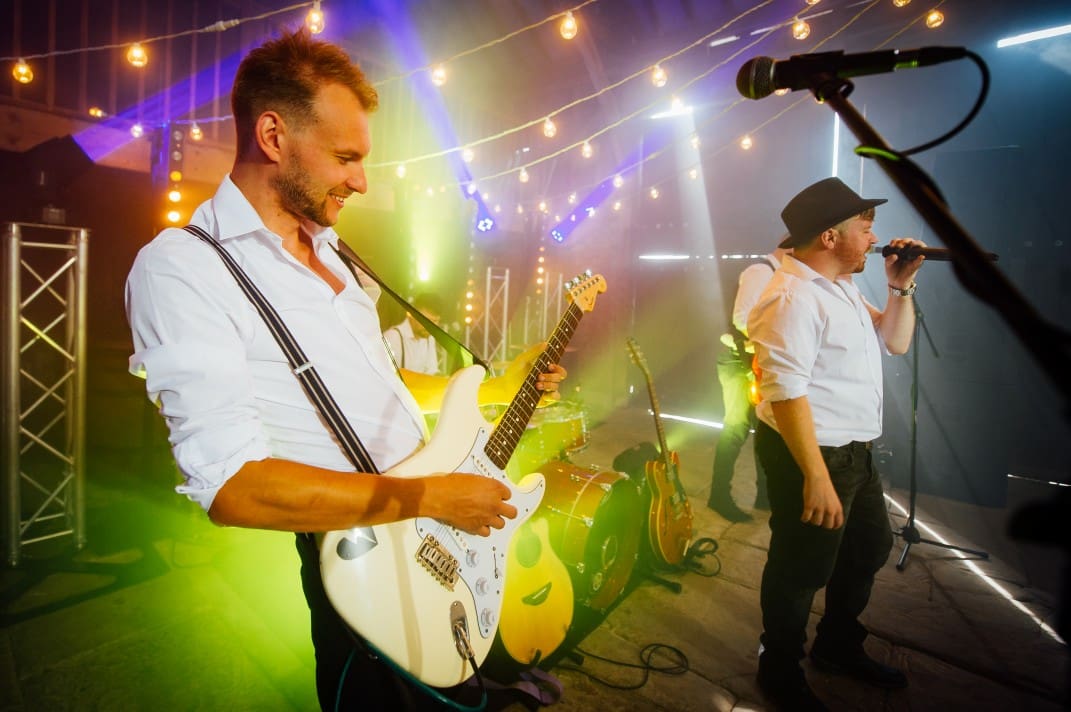 Do you get on with each other all of the time?
Pretty much all the time, we all have our banter here and there but we are like family. If we do ever have disagreements it's usually over a game of monopoly if we've got a long wait in the van!
Who has the most annoying habit (and what is it)?
Jamie our drummer finds it annoying when the rest of us go into the crowd with our wireless guitars and microphones and he's the only one left on the stage for a few songs. We love having a party with the crowd and they love to get involved too, so it's a good thing really, he just gets lonely up there all by himself!
What's the best thing about being in a band?
Being able to play music with your best friends and have people enjoy it. It's such a great feeling when everyone is up dancing and singing along to the songs, it doesn't get much better than that.
… and what's the worst?
Long van journeys! We love what we do and we love seeing a different part of the country, but the van can be a very boring place. We played at a wedding earlier this year and spent more time inside the van than we did outside of it. That was a long day and we suffered many dead legs and numb bottoms!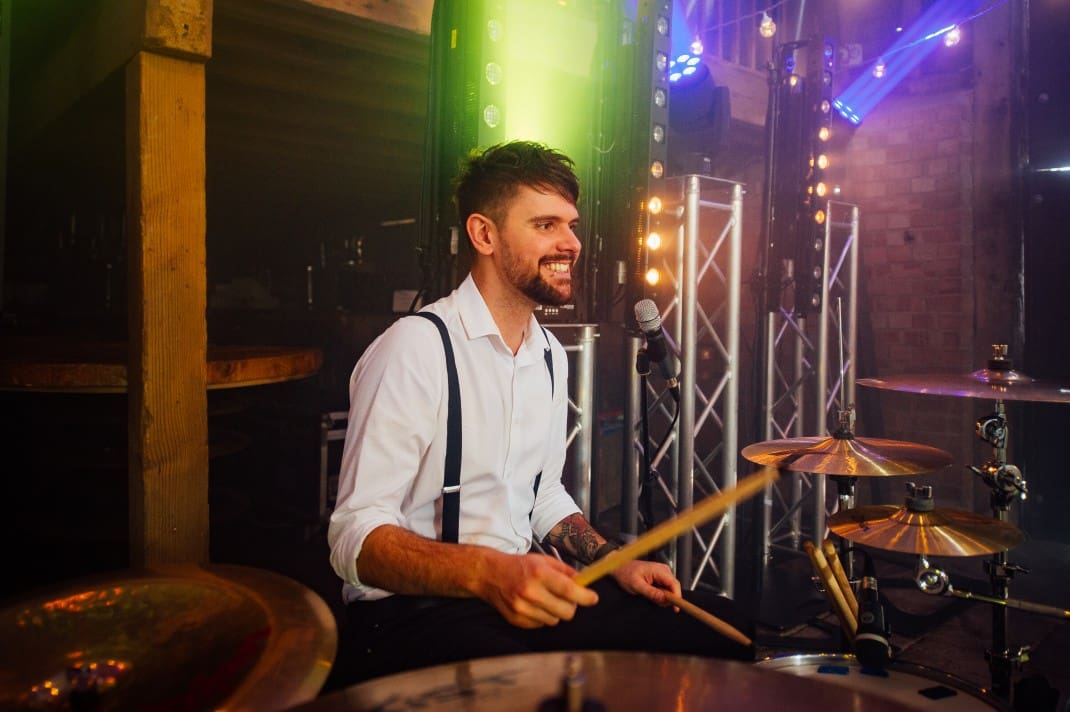 What's the weirdest thing that's happened to you at a wedding?
We played a wedding a few months back towards the start of the year and the audience were fantastic, really going for it the whole night. We were playing 'Funky Music' by Wild Cherry and our singer Andy was off the guitar and just on vocals for this song. We'd just started the song and he walked off into the middle of the crowd. Now he isn't the tallest of chaps so we lost sight of him. We could still hear him singing but couldn't see him and had no idea where he was. Then in the middle of the dance floor, we saw him pop up and he was on the groom's shoulders singing the chorus! Lots of crazy things happen and we love the energy of the dance floor and how it can be completely spontaneous. We've also had a crowd surfing bride before and come back from a break to find the bride and bridesmaids on the stage on our equipment!
Play That Funky Music performed by Dance Floor Fillers: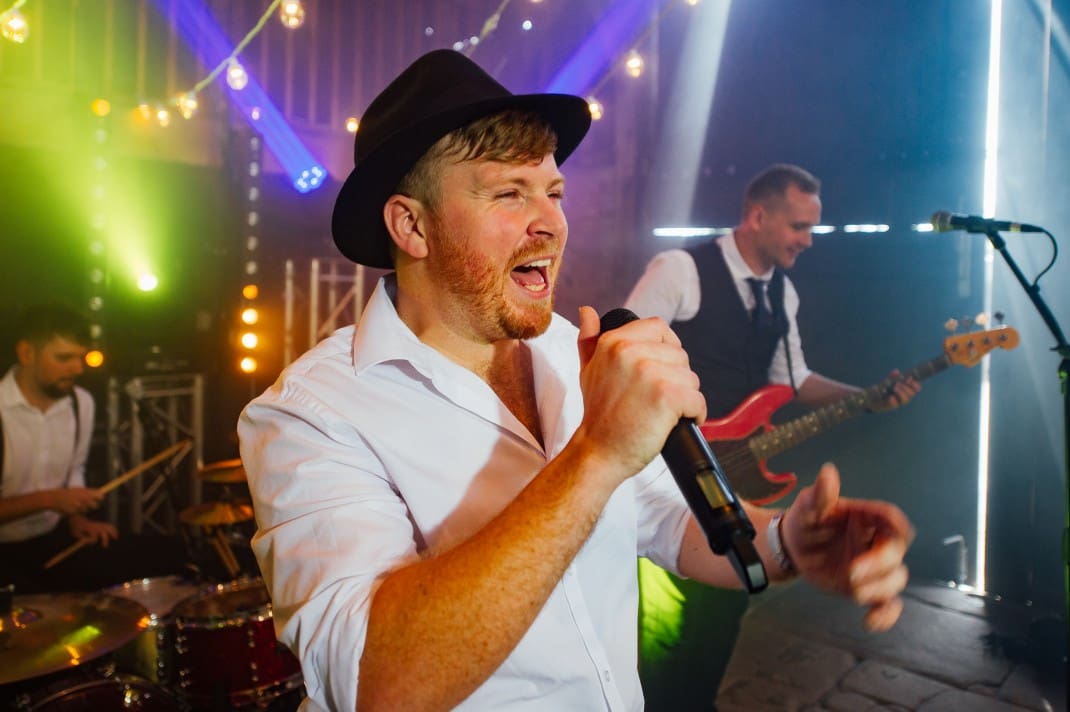 And finally…the most important question: Buffet or Hog Roast?
Now that is a tough one. It's got to be the buffet though. You can't beat those pork pies and sausage rolls!
Thank you to the guys for taking part in our In The Spotlight series!
If you're interested in booking Dance Floor Fillers for your wedding, party or corporate event, contact us over Email: info@entertainment-nation.co.uk Phone: 0800 53 000 35 or LiveChat on our website! Our friendly advisers are available 10am-10pm every single day, so please don't hesitate to contact us 🙂