If you're a fan of everything 90s, then you'll love this latest In The Spotlight, where we chat with Dawson. This energetic 3-piece band boast a repertoire jam-packed with indie, rock and pop-punk hits from the nineties and early noughties, alongside vintage rock n roll classics from the '50s and '60s – whichever decade you want to re-live, Dawson can take you there!
These exuberant musicians thrive onstage, delivering powerful performances bound to whip up a crowd and have everyone rocking along with them! With high-octane male lead vocals, epic guitar riffs, groovy basslines and thumping drum beats, these guys definitely know how to summon an incredible atmosphere.
So, without further ado, we'll hand you over to Dawson now to get an insight into this trio – over to you guys!
Who Are Dawson?
"We are three lifelong best buddies and bandmates who play our hearts out, no matter the time or place. We love reimagining songs, whether that's a pop punky '90s hit from bands such as blink 182, '90s classics from the likes of Backstreet Boys or smashing versions of modern chart-toppers such as Bruno Mars- we always include a dash of '90s nostalgia with raw punchy electric guitar, melodic thumping bass lines and authentic live drums."
What Can A Wedding Couple/Client Expect When They Book You?
"Bags of enthusiasm, flexibility based on your needs and a great night of entertainment for everybody at your event!"
Do You Offer Any Optional Extras?
"Yes – we love to think outside of the box, and go the extra mile to give each client our best possible performance. In the past, we've offered extras such as a 4-piece line up with a second guitarist or keyboard player, and we also love to play a stripped-down acoustic set earlier in the day when couples request this."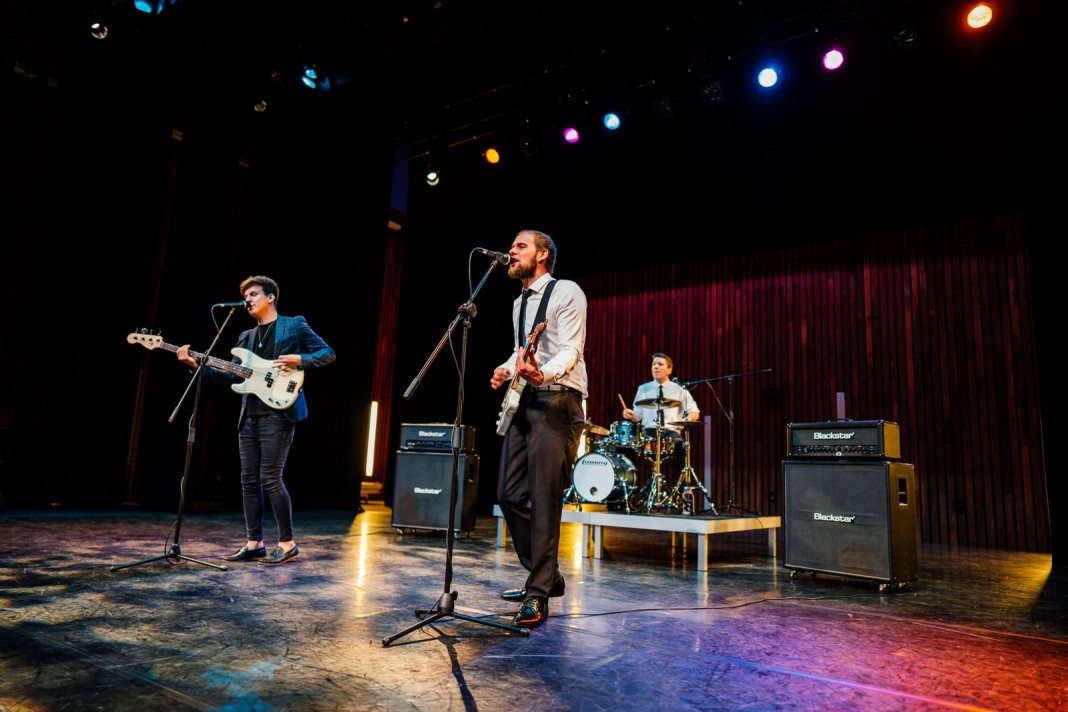 Which Song Is Your Favourite To Perform?
"'I Bet You Look Good On The Dance Floor' by the Arctic Monkeys – it came out when we were young and we have been playing it together since the week it was released!"
Which Is The Song You Can Always Rely On To Fill The Dance Floor?
"Just one song!? Our version of 'Livin La Vida Loca' by Ricky Martin always surprises audiences and gets the dance floor buzzing!"
Top-requested Song?
"That's got to be 'Uptown Funk' by Bruno Mars."
Top Choice For a first dance song?
"'When The Night Feels My Song' – Bedouin Soundclash. You can't beat the harmonies on that chorus!"
Favourite Sing-along Song?
"Wheatus's 'Teenage Dirtbag' – a guaranteed belter every time!"
With a repertoire full of throwbacks, Dawson can craft the ultimate playlist for any event – whether you're throwing a '90s-themed bash or simply want to hit your party guests with some nostalgia, they'll have the perfect tracks for you. Take a look at their full repertoire here:
What Inspired You To Be Musicians?
"Elliot, our guitarist! When we were younger, Elliot was learning guitar and wanted to start a band but didn't know anyone. Long story short, I sat at the drum kit in his parent's garage and have never looked back."
Do You Get Along With Each Other All Of The Time?
"We've known each other for almost our whole lives, so we're more like brothers. Brothers can sometimes wind each other up, but we always have each other's back!"
What's The Best Thing About Being Musicians?
"Every weekend, we get invited to a massive party on the best day of a couple's life. Getting to turn up at these parties and do what we love really is the best job in the world!"
…And What's The Worst?
"Packing up and loading out heavy equipment (especially drum kits and PA speakers) late at night. If only we could teleport ourselves and our equipment home!"
If You Weren't Musicians, What Would You Be Doing?
"Probably stood onstage doing something else instead!"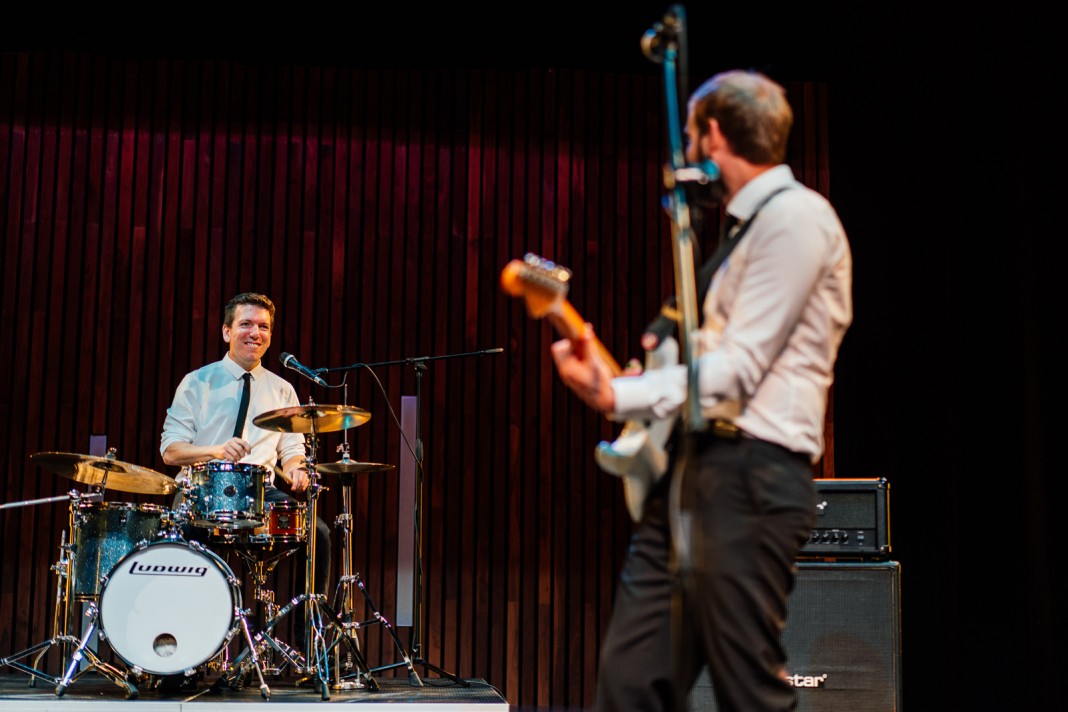 Top Tip For Anyone Booking Wedding/Party Entertainment?
"Don't be afraid of asking for what you want – there's nothing better for us than knowing in advance that 'magic song' to finish our DJ set at the end of the night with to cap off your evening, or if we can, performing your request in our main set!"
A big thank you to David, the drummer of Dawson, for taking the time to chat with us for In The Spotlight! To see more of Dawson, check out their profile and learn more about this talented trio.
Get in touch
Still searching for your ideal wedding band? Get in touch with our expert team of advisers who are ready to help you find the band that suits your big day. Simply drop us an email at info@entertainment-nation.co.uk, message us using our website's LiveChat button, or call us on 0800 53 000 35.
Found THE band for you? Enquire 24 hours a day by hitting "Enquire Now" and filling out the simple form on the act's profile (it takes seconds) and we'll be in touch ASAP with availability and a free quote for your event!