Today we're getting to know a band who have the full house of bold female vocals, brilliant musicianship and a repertoire brimful of massive party tunes – The Ace Band! This scintillating Bristol wedding band go all in with a mix of pop, rock, soul and funk hits from throughout the decades that never fails to delight; with songs from the likes of Adele, Stevie Wonder, Justin Timberlake and Jess Glynne, it's no surprise that they're greeted with a full dance floor at every event!
The Ace Band are a fun and enthusiastic bunch of musicians who simply love what they do. But don't just take our word for it…hear it from the fabulous four-piece themselves!
Who are The Ace Band?
"The Ace band are 4 dedicated top quality musicians living in Bristol, 1 sassy female vocalist and 3 guys rocking out with lots of passion and energy."
Which song is your favourite to perform?
"This is a tough one. At the moment our favourite song is probably '24K' by 'Bruno Mars' or 'Thriller' by 'MJ'. Everyone loves doing the 'Thriller' dance moves on the dance floor – even we do!"
Out of the songs you've been asked to learn for a first dance, which is your favourite?
"We were asked to play 'The Bay Watch Theme' last summer for a first dance. That was great fun, cheesy but it went down a storm. The RSPCA tv advert theme tune came a close second."
Check out The Ace Band performing Uptown Funk by Bruno Mars – a guaranteed dance floor filler!

One final song question, which is the song you can always rely on to fill the dance floor?
"We play lots of modern songs but without fail 'Johnny B Goode'. It's that iconic guitar intro that gets everyone swinging their partners around the dance floor."
Do you get on with each other all of the time?
"60% of the time, every time. Of course we do. We are a happy band of mates, we just love playing music."
Who has the most annoying habit (and what is it)?
"I often get asked by someone in the band "Where are the toilets?" in a venue I have just pulled up to. I simply reply 'this venue has no toilets you have to hold on until we get home tonight'."
What's the best thing about being in a band?
"Definitely band humour and banter. Often we spend hours together either in the van travelling or waiting to play. After a few years, bands develop a unique sense of humour made up of quotes from previous gigs and happenings. Often this makes no sense but can be very funny. However, the real best thing about being in our band is doing what we love and being able to contribute to someone else's happiest day of their life."
… and what's the worst?
"Running out of time to play all our favourite songs."
What's the weirdest thing that's happened to you at a wedding?
"Too many to mention. Band finished 1st set. Firework display started. Band went to eat some sandwiches. The first firework went straight into a tree. It then went bang stuck on a branch 10ft up in the air. Band came back from sandwiches looked out the window. The tree was on fire, children were crying, fireworks were still going off, women were screaming and men were running around in a panic. It was like a scene from 'War of the Worlds' out there!! No one was hurt and I believe the tree is still standing."
And finally… the most important question: Buffet or Hog Roast?
"Ice cream"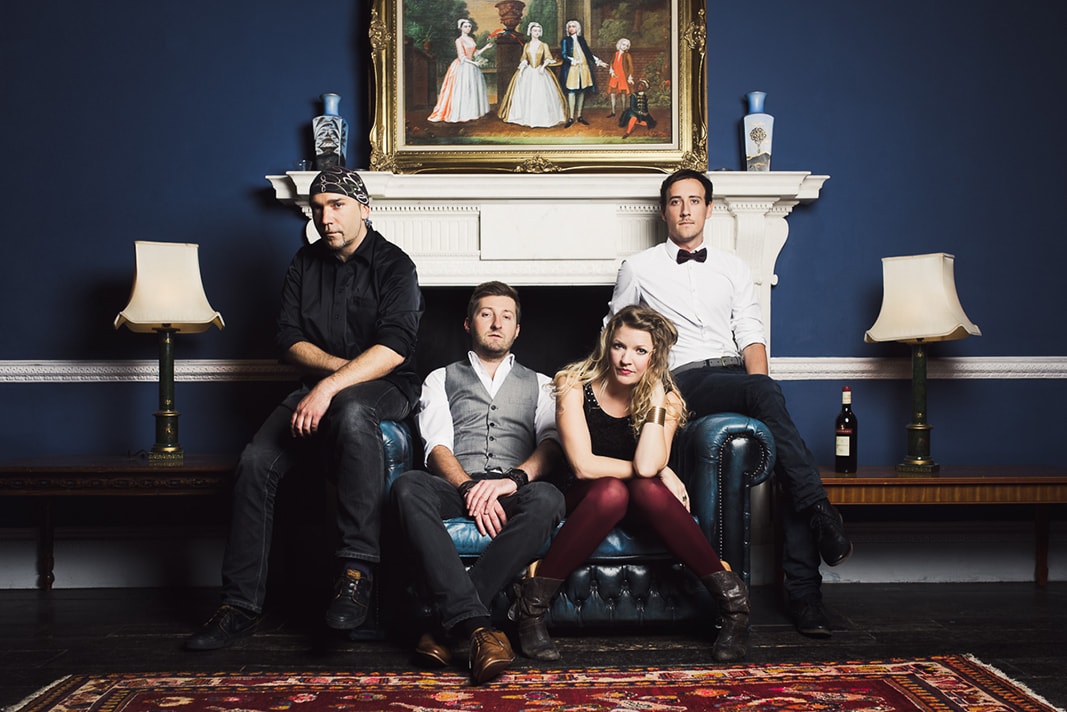 We will accept your final answer there, haha! Thank you so much to The Ace Band for taking part in In The Spotlight.
If you want to find out more about The Ace Band and book them for your event, then head over to their profile.
We also have a wide range of party bands, live wedding bands and corporate entertainment available for you to book for your event right now. Our team of dedicated live entertainment experts are here to help from 10am until 10pm, 7 days a week. We can't wait to hear from you!